From the End of Capitalism to Russian Public Opinion
The "Freiburger Horizonte" kicked off the Summer Semester 2023 with two well-attended events. Author Ulrike Herrmann and the Freiburg economist Lars Feld debated "The End of Capitalism". Political Scientist Ekaterina Schulmann outlined public opinion in Russia in times of war.
The stability of the capitalist system depends on economic growth. However, economic growth and environmental protection are irreconcilable which signals the end of this economic model. This is the main argument of the non-fiction novel "The End of Capitalism" by economic journalist Ulrike Herrmann which marked the beginning of the event on April 17, 2023. Her counterpart in the debate was Prof. Dr. Dr. h.c. Lars Feld, Professor of Economic and Fiscal Policies and Regulatory Economics at the University of Freiburg.
Ulrike Herrmann opened her statement by making clear that she does not consider herself an opponent of capitalism and by acknowledging the progress and prosperity that this economic system has brought over the past 200 years. However, she continued, it will not be possible for capitalism to achieve the climate neutrality that is both an ecological necessity and a political objective because the system's hunger for energy cannot be satisfied without fossil energy.
Herrmann advocated for a switch in economic policy to a circular economy. She referred to the British wartime economy from 1939 as an example for the impetus needed for this necessary transformation. Back then, they had been able to reorient the economy to the production of weapons through state planning and rationing without triggering a crisis - despite a shrinking economy.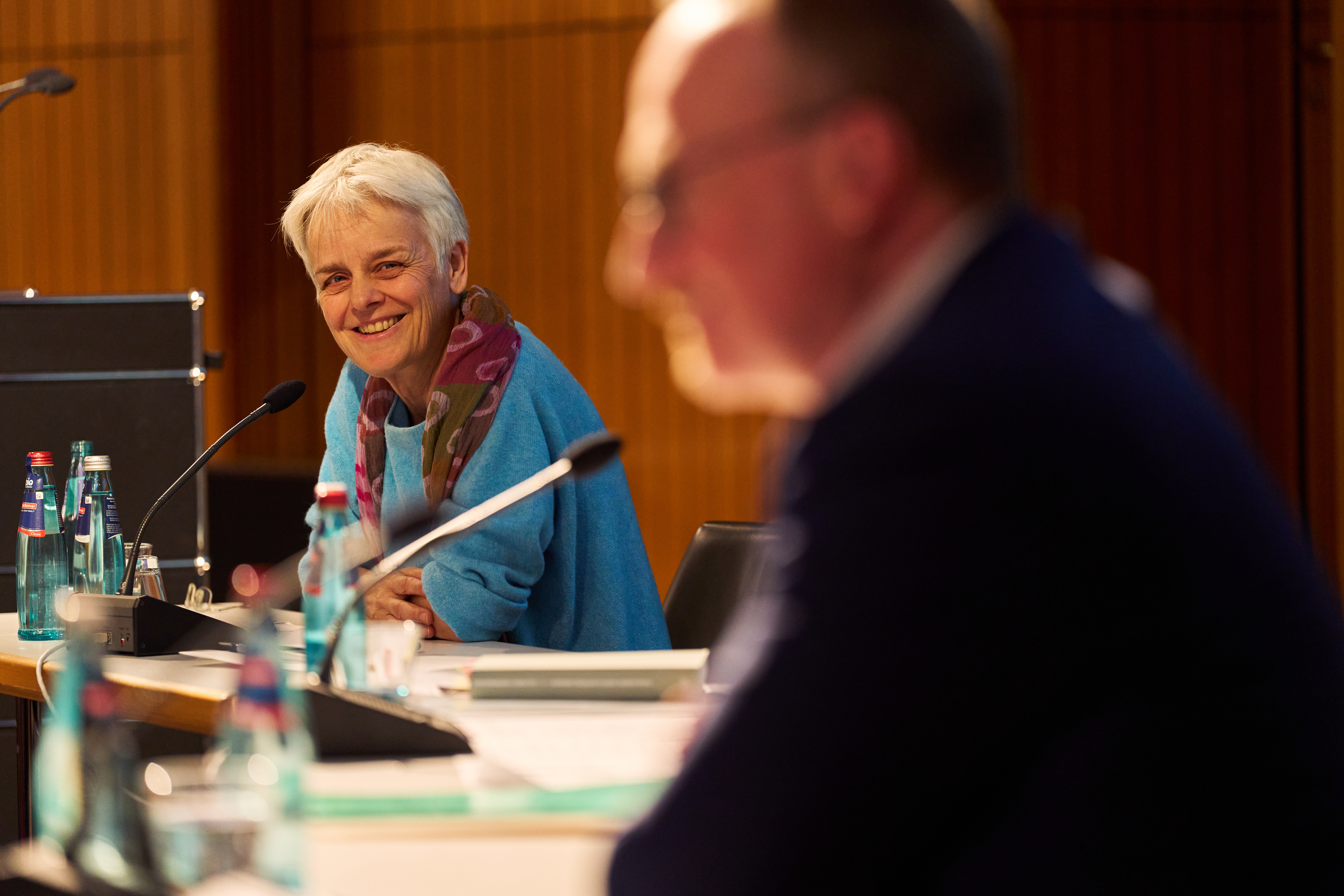 What does the economic system of the future look like? Ulrike Herrmann (left) and Lars Feld debated passionately about shifting economic policy. Photo: Markus Schwerer
Lars Feld began his counter-argument by clarifying that he would rather discuss the social market economy than "the capitalist system". He argued that the British war economy had been made possible only because of U.S. loans and was thus based on free-market principles. Furthermore, planned economies do not lead to progress because of their lack of adaptability. Hence, his guiding question was: How do we create solutions in the flexible barter system of the market economy in order to overcome the climate crisis?
Feld criticized the fact that many forecasts do not take technical progress into account. He pointed to development possibilities for better storage options for green electricity, ways of removing CO2 from the atmosphere or improved production methods for manufacturing synthetic fuels. The best way to promote technologies would be to make the combustion of fossil raw materials more expensive by putting a price on CO2, he argued.
Based on these fundamentally different positions, a lively debate developed between the two opponents, covering a range of topics from technology cycles, distribution policy and housing policy to epistemology. The event had already generated a great level of interest in advance. The auditorium was filled to its maximum with 330 attendees. A similar amount  had to be denied entry for security reasons. In the first four weeks after its release, the video recording of the event was viewed more than 90,000 times on YouTube and was the subject of lively discussion in the comments.
"The Russian society is deeply insecure"
Outlining how public opinion in Russia has developed between the annexation of Crimea and the country's all-out war against Ukraine was the aim of the lecture by Russian political scientist Ekaterina Schulmann. She was a guest at the "Freiburger Horizonte" on May 4, 2023. Schulmann is considered an important voice in the Russian opposition and her analyses reach tens of thousands of viewers on YouTube. Most recently, she was a fellow at the Robert Bosch Academy in Berlin.
Schulmann left no doubt that the collection and analysis of polling data in an autocracy shaped by state propaganda cannot be compared to democratic conditions. However, this data is not "faked" per se. In fact, the Russian regime is extremely interested in what its population thinks, Schulmann explained. By combining different sources of data and comparing them over time, it is possible to make realistic statements about the moods and attitudes of the Russian population.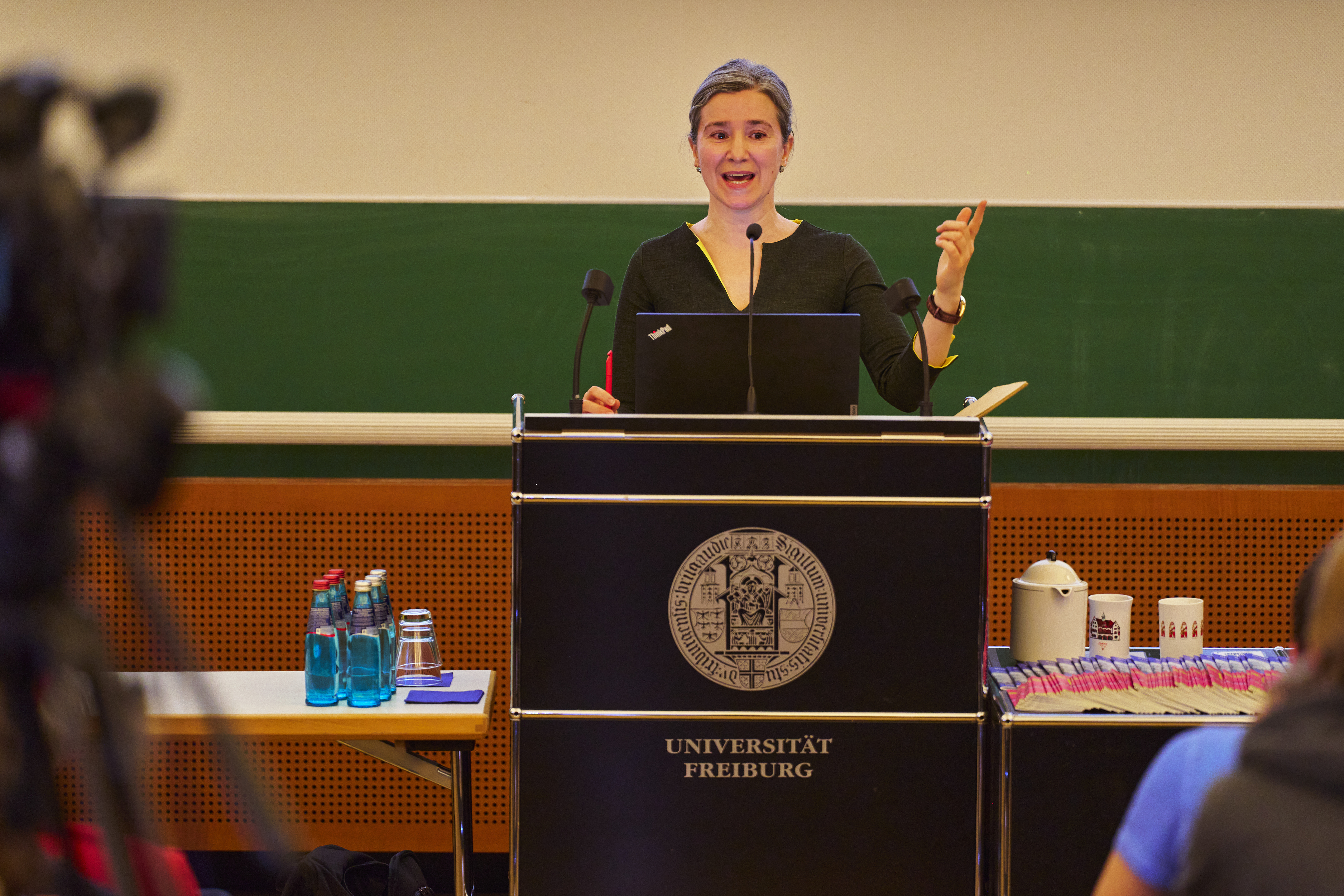 What does the Russian society think about the war on Ukraine? Ekaterina Schulmann provided important findings on a topic that is often veiled in secrecy. Photo: Markus Schwerer
Schulmann painted a picture of a deeply insecure society that does not know itself. There is no public sphere and generally few things that unite the Russian nation, she said. "Russian society is not conservative, religious or collectivist, but highly individualistic," Schulmann claimed. Her analyses showed that people's optimism and trust in institutions, which peaked in the years following the "Crimean Consensus" in 2014, have been declining again since 2017. In Russia, there is a widespread assumption that one can only trust one's family and closest friends, she explained. A comparison of different social groups shows that age in particular plays a major role in shaping people's attitudes: The "Soviet Baby Boomers," who are those over 60 years old, show significantly greater support for the regime than the younger age groups.
However, when prompted by a question from the audience, Schulmann did not want to predict an imminent collapse of Russian society due to the dying demographic support for the current regime: "Demographic processes are very slow. I can only use sociological indicators to give an impression of what is happening in Russia. At the moment, it's too early to estimate what will happen."
 Text: Dr. Max Bolze, Teamlead Public Relations FRIAS, Contributors: Lilly Kanthak, Emily Schlegel