"Jenseits von Corona"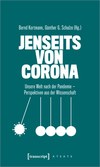 What consequences will the corona pandemic have? Which developments will it initiate or intesify? In their recently published anthology "Jenseits von Corona. Unsere Welt nach der Pandemie – Perspektiven aus der Wissenschaft", FRIAS directors Bernd Kortmann and Günther Schulze pursue these current issues with a prominent selection of authors.
To accompany the volume's publication, FRIAS is organizing a series of discussions to address these questions and follow them up. Until the end of the year, three "fireside conversations" are planned. Bernd Kortmann and Günther Schulze will discuss selected topics with contributors to the anthology. The events will take place in a hybrid format of face-to-face and online discussion. All viewers are cordially invited to participate in the discussions via Zoom. The recordings of the events can later be accessed in the FRIAS media library.
All
Events