"Jenseits von Corona"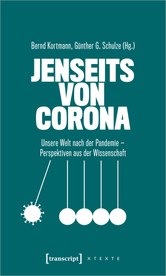 The Corona pandemic has changed our lives profoundly.
In their new anthology, FRIAS directors Bernd Kortmann and Günther Schulze have gathered a prominent group of authors to contemplate some of the most pressing questions of our time:
What will remain of the crisis and its profound changes? Is the crisis a turning point in history or merely a dent in long-term trends? How will Corona change our lives in family, work, education, business, politcs, culture, and science?
The succinct articles form a kaleidoscope and create new perspectives on our world after Corona.
Find more information about the book here.
Find the accompanying blog here.
Along with the publication of this anthology, FRIAS hosts a series of discussions taking up the same questions.
Find here the video podcasts for our series "Jenseits von Corona".
Fireside Conversations, November 18, 2020


with Ulrich Bröckling, Herfried Münkler and Andreas Voßkuhle

Fireside Conversations, October 21, 2020

with Vera King, Kai von Klitzing and Brunna Tuschen-Caffier 

Book Launch, September 29, 2020

with Bernd Kortmann, Günther Schulze and Jürgen Osterhammel

Presenter: Arndt Michael