Ignorance - what we don't know
Beginning of the sixth round of the FRIAS Lunch Lectures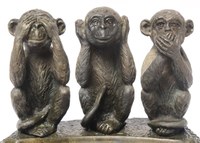 The new round of FRIAS Lunch Lectures leads us to the frontiers of research and its greatest challenge: ignorance. What is it that we don't (yet) know and perhaps will never know? What is it that we are not supposed to know or do not want to know?
These are some of the questions the FRIAS Lunch Lectures will address this winter term 2016/17, beginning on November 10, 2016. FRIAS Fellows from various different disciplines such as the natural and life sciences, literature, political sciences, religious studies, environmental studies and economics will focus on the issue of ignorance in eight lectures. The lecture series will also build on recent research in the fields of "ignorance studies" and "agnotology". The latter field tackles the production of ignorance, for example regarding the dangers of climate change, smoking, fracking or nuclear power.
Just like last year, the Lunch Lectures emerge from a cooperation of FRIAS and the Chair for Science and Technology Studies at the University College Freiburg (UCF).
Every second Thursday from 12:15 – 1:00pm, FRIAS Fellows will give lectures in Lecture Hall 1015, Kollegiengebäude I at the University of Freiburg. The lectures are open to the public and will be held in English.
On November 10, FRIAS Director Bernd Kortmann and Veronika Lipphardt (UCF) will kick off the series with a lecture on "Ignorance Studies and their Relevance for Science Studies and Society", followed by A. Ganesan (University of East Anglia) talking about ignorance in the field of epigenetics, November 24, and Lorenzo Kamel (Harvard University) with a lecture on ignorance about the root causes of the current situation in the Middle East, December 8.
All lectures will be published as podcasts via the FRIAS media library. Further information about the programme of the Lunch Lectures.
11/2016