FRIAS-USIAS Fellow Ralf Reski for sustainable use of water
States that share rivers or lakes often compete for use of these waters, resulting in a high international conflict potential. Under which conditions can we ensure fair and equitable access to clean water? In order to equip students worldwide for these challenges, University of Freiburg Biologist and FRIAS Fellow Professor Ralf Reski has developed a programme that aims to embed the issue of sustainable water management in university curricula.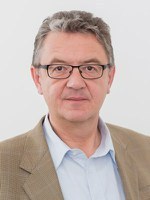 He is coordinating the TREASURE-WATER project, in which Universities from EU- and neighbouring countries will develop new curricula for natural and engineering sciences as well as for the humanities. The European Union is supporting the project with approx. one million euros within the "ERASMUS+" framework. The TREASURE-WATER consortium consists of 14 partners with Universities in Germany (Freiburg), Greece (Athens, Thessaloniki), the Netherlands (Nijmegen) and England (Wolverhampton). Of the EU neighbouring countries five Russian Universities are participating from Siberia (incl. Altai, Tomsk and Tyumen) as well as two Universities from Kazakhstan (incl. Astana). Large-scale water suppliers "Zweckverband Bodensee-Wasserversorgung" and "Tyumen Vodokanal" are also supporting the project.
Further information on the TREASURE-WATER program: http://www.pr.uni-freiburg.de/pm/2015/pm.2015-08-12.118-en
Live recording of a SWR4 radio interview on the topic with Ralf Reski (in German): http://www.plant-biotech.net/Treasure-Water.mp3
08/2015