FRIAS NEWS 13 PUBLISHED
The 13th issue of the FRIAS NEWS with the title "RETREAT AND DIALOGUE" has just been published. The latest issue introduces individual fellows and their research projects and provides an overview of current developments at the Institute.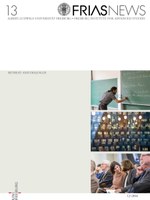 A special highlight is an extensive interview with the former education minister of Baden-Württemberg and current chairman of the FRIAS Steering Committee Prof. Peter Frankenberg. Furthermore, FRIAS brought together Prof. Ulrich Bröckling (University of Freiburg) and FRIAS Fellow Prof. Sabine Hake (University of Texas at Austin) for a conversation about visions of the future of the workers movement in the 19th and 20th century, the role of fear and anger in political discourse and much more.
A portrait of the current FRIAS Research Focus "Chemical Epigenetics" introduces the topic of the group and explains, why epigenetic mechanisms are the "bookmarks in the book of life".
In the series "Portrait" introduces the migration researcher Nicola Piper and the American historian Andrew Port, who studies German reactions to post-holocaust genocide.
As always, the issue closes with the latest news from the Institute and an outlook on further events at FRIAS.
12/2016
To order your free copy please contact us: presse@frias.uni-freiburg.de 
Previous issues: