FRIAS Express March 2018
Dear FRIAS Community,
On April 1, 2008, FRIAS opened its doors to its first generation of fellows. Ten years and some 600 fellows later, we are hosting 60 fellows and find ourselves in the midst of building up an Institute for Advanced Studies in Africa – not a small feat. However, perfecting FRIAS is a continuous effort, which is why we keep working on developing our institute to best serve research, in general, and the University of Freiburg, in particular. At the same time our efforts of the past 10 years have not gone unnoticed. They have earned FRIAS a firm place among the leading Institutes for Advanced Studies in Europe and beyond.
Among those who already joined FRIAS in 2008 is Dr Carsten Dose, the institute's managing director. Having contributed greatly, and in a great number of ways, to FRIAS' development over the last decade, both as a perfectly organized (and organizing) manager and, perhaps even more so, as a strategic thinker with a wonderfully personal touch, he will now leave the institute to take up a new position at the Ministry of Science, Research and the Arts of the state Baden-Wuerttemberg. There will be a farewell celebration, so, please, should you happen to be in Freiburg on that day, feel cordially invited to join:
Farewell celebration for Carsten Dose as part of the next Dinner speech on Wednesday, April 11, 2018, 5.30 pm.
All fellows, alumni and friends of the institute are warmly invited to join us on this very special occasion. (Speaking of special occasions, please note: As already communicated in our last FRIAS Express, we will celebrate the first 10 years of our institute on June 29, 2018. Don't forget to mark this date in your calendar.)
TOP NEWS
» UBIAS Directors' Conference 2018
FRIAS participated in the fifth UBIAS Directors' Conference, hosted by the Institute for Advanced Studies at the University of São Paulo from March 19 to March 23. UBIAS is the international network of University-Based Institutes for Advanced Studies, currently consisting of some 40 member institutions. After the founding conference in Freiburg in 2010, when some 20 directors gathered for the first time, this meeting was established as a biennial event, having subsequently been hosted in Israel, Taiwan, England, and now Brazil.
» Selection of the external and internal fellows for the academic year 2018/19
The Scientific Advisory Board (SAB) has selected the recipients of the individual fellowships for the academic year 2018/19. The selection of future fellows is a special time of the year for every Institute for Advanced Studies. Again we will host numerous external and internal, junior and senior scientists with exciting projects in many different disciplines.
» Vice-Chancellor of the University of Ghana visits University of Freiburg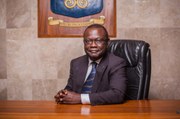 On March 28th, Professor Ebenezer Oduro Owusu, Vice-Chancellor of the University of Ghana, Legon/Accra, met with University of Freiburg's Vice-Chancellor Gunther Neuhaus, FRIAS executive director Bernd Kortmann, and Andreas Mehler, director of the Freiburg-based Arnold Bergstraesser Institute (ABI) which has a long-time track-record of research on socio-political issues in Africa, Asia, Latin America and the Middle East. Together, they discussed the future cooperation of both universities. Currently, FRIAS and ABI are taking the lead in a German consortium building of the Merian Institute for Advanced Studies Africa (MIASA) at the University of Ghana. For more information on the MIASA project turn to the FRIAS News 15
» A Middle Eastern Odyssey - Exhibition of Middle Eastern and Islamic language materials at the University of Otago, NZ
From March 16th until June 1st the Central Library at the University of Otago shows Middle Eastern and Islamic language materials in the form of travel and history books from the 17th – 20th century, compiled by FRIAS Junior Fellow Majid Daneshgar. Some of the manuscripts are unique and convey a wider picture and greater understanding of the Middle East. A copy of the exhibition catalog is available here
» Mathematics Day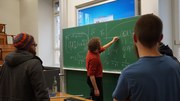 FRIAS Fellows organized a Mathematics Day on March 13, 2018. The Mathematics Day was an initiative to strengthen the exchange of the research groups and fellows currently working at FRIAS in the field of mathematics. Although mathematics is the common ground of their work, the fellows' research projects diverge greatly. For further information, please see an overview of the current FRIAS research projects in the fields of theoretical and applied mathematics here
» Junior Fellow M. Bertolotti to take part in Lindau Nobel Laureate Meeting 2018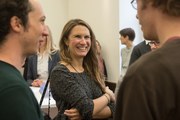 Congratulations to Milena Bertolotti! She has been selected for this year's Lindau Nobel Laureate Meeting for Physiology or Medicine taking place in the German town of Lindau from June 24 until June 29, 2018. Milena succeeded in an international selection process where 600 young scientists (students, PhDs, and Postdocs) were selected to spend a week with 30 - 40 Nobel laureates. Lectures and workshops will be organized to foster the exchange among scientists of different generations, cultures, and disciplines. More information
LOOKING AHEAD
» Language Comprehension across the Lifespan - Conference
While research on cognitive aging has mostly focused on age-related deficits, it has also been acknowledged that certain cognitive functions might be preserved or even improve as a function of age. During the two-day conference, taking place on April 9 and 10, researchers from multiple disciplines will explore the dynamics of language comprehension across the lifespan, starting with adolescents and up to older adults. More information
» Junior Researcher Conference - Polycentric Climate Governance after Paris: Expectations, Challenges and Pathways
To which extent can polycentric climate governance successfully address climate change challenges? From April 12 until April 14, the junior researcher conference invites senior researchers, doctoral students and Postdocs to discuss the role of state and non-state actors in a new era of climate governance after the Paris Agreement. More information on the event and participation is available here
» New Lunch Lecture Series on 'Ignorance – What we don't know'
Beginning in May, the FRIAS Lunch Lecture Series will explore the frontiers of research, its greatest challenge and, as some may say, its greatest enemy: What is it that we don't know and maybe will never know? What we don't know yet, or what we don't want, or should not want, to know? From the different perspectives of a highly diverse set of academic disciplines and research cultures, FRIAS Fellows will address these and other questions relevant for shedding light on ignorance.
The introductory lecture will be given by Matthias Groß, co-editor of the "Routledge International Handbook of Ignorance Studies", on May 3rd at 12:15 pm. A schedule and more information on the upcoming lectures in the summer term can be found here
FROM THE MANAGING DIRECTOR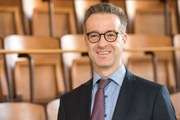 » Carsten Dose, FRIAS managing director since 2008 to leave FRIAS 
When I think of what we achieved at FRIAS over the last 10 years, what stands out for me is the creation of our lively community of fellows – or rather of communities, as the institute has constantly been transformed through the yearly influx of new fellows. The FRIAS community in a way embodies the very idea of the university: Bringing together vastly different expertise, joined in the willingness to learn from each other and to take up unexpected impulses.
Beyond our own community here at the institute, in 2010 we initiated a global community through the network of University-based Institutes for Advanced Studies world-wide, which has become an equally vibrant locus of exchange, learning and support.
While every community is a defined group of people, we were never just inward-looking. For the university we explored novel ways to support research ideas that cut across disciplinary boundaries. We continue to learn how our research foci and groups can best be supported to achieve unique results. And we have only just begun to make use of the potential of our institute to integrate policy makers and public intellectuals into our exchanges. We will continue our contribution to fostering a substantiated dialogue between academia, representatives from different parts of society and the public. Building communities of learning in many different shapes thus remains a very powerful way of contributing to science and research.
As I am leaving FRIAS to take up a new position at the State Ministry for Science, Research and the Arts, I am looking forward to supporting research and learning in a different function at the interface of policy making and academia. I am now experiencing what numerous fellows have communicated to us time and again: It is not easy to leave FRIAS. I would like to thank Bernd Kortmann and the directorate, my team and our many colleagues in different parts of the university for the experience of real teamwork over the years: with joint and determined effort, we built up a special place that is here to stay and thrive.