Lindau Nobel Laureate Meeting 2018 - Congratulations to Milena Bertolotti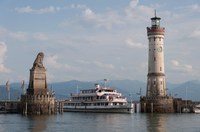 Lindau Harbour (cc) Julian Herzog, CC BY 4.0
Congratulations to Milena Bertolotti, who has been selected for this year's Lindau Nobel Laureate Meeting for Physiology or Medicine taking place in the German town of Lindau from June 24th until June 29th, 2018. Milena Bertolotti succeeded in an international selection process where 600 young scientists (students, PhDs, and PostDocs) were selected to spend a week with 30 - 40 Nobel laureates. Lectures and workshops will be organized to foster the exchange among scientists of different generations, cultures, and disciplines.
"I am really happy that I have the opportunity to take part this year, as the meeting on Physiology and Medicine only takes place every 4 years. I am especially looking forward to meeting Peter Agre and Randy Schekman, whose work has been important in my research. Having feedbacks and discussions with these great cell biology scientists will be simply amazing!"
We are looking forward to a report back on this unique scientific event.
More information about the Lindau meeting is available here http://www.lindau-nobel.org/about/
 
2018/03/06