FRIAS Express January/February 2020
Dear FRIAS Community,
It is only a few weeks that we are into the new year, and yet FRIAS is already in the final preparations for the fellow selections for the academic year 2020/21. For MIASA, our daughter institute in Accra, Ghana, its Academic Advisory Board, supported among other things by FRIAS director Kortmann, has even selected the first 11 fellows already, with another 10-15 fellowships to be awarded in early May. The readers of the FRIAS Express are more than welcome to spread the current MIASA calls for 2021 and, of course, to apply themselves! At the same time, we are already busy planning the programmes of the 2020 lunch lectures and Freiburger Horizonte – plus the programme of our February workshop on the "Humanities in the 2020s". All very thrilling! Also, it is absolutely wonderful to have our new managing director, Dr. Annette Doll, now with us. We wish her a good start and an equally trusting and enjoyable collaboration with the directors and the FRIAS team in the years to come! 
We at FRIAS are ready for 2020!
TOP NEWS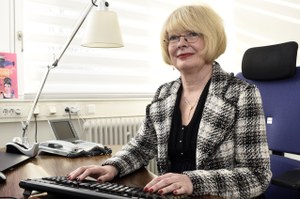 » Get to know our new managing director Dr. Annette Doll

In the December issue of the FRIAS Express, we informed you about the imminent (and long-awaited) structural change that was about to happen in January: the arrival of our new managing director Dr. Annette Doll, who has taken up the lead of FRIAS administration on January 15.
We talked with her about her understanding of science management, about the North-American science system, and, of course, about her plans for FRIAS. Read our exclusive interview, and get a first impression of the woman who will accompany the restructuration of FRIAS into a permanent institution.
» Call for Applications: 6-month Junior Fellowships  in Global History (Balzan-FRIAS project)
One of the most recent projects based at FRIAS is the Balzan-FRIAS Project in Global History which is led by  Distinguished Fellow Professor Jürgen Osterhammel and Professor Stefanie Gänger from the University of Heidelberg.
The project now offers up to four 6-month Junior Fellowships in Global History. The Call for Applications addresses post-docs who have a strong interest in "global history" and multidisciplinarity, and prepare a post-doctoral research monograph.
We invite you to share this call with potential candidates in your network.
For further application details, see the official call on our website.
» Call for Applications: Fellowships offered by our partner MIASA
The Maria Sibylla Merian Institute for Advanced Studies in Africa (MIASA) is broadly dedicated to research in the Humanities and Social Sciences, with 'Sustainable Governance' as its central, but by no means exclusive topic. Overarching aims of MIASA are working towards a reduction of global asymmetries in knowledge production and bridging the cultural divide between anglophone and francophone Africa. Located on the beautiful campus of the University of Ghana at Legon (Accra), MIASA supports innovative academic projects in the Humanities and Social Sciences of top international quality via different kinds of fellowships: individual fellowships, tandem fellowships with one tandem partner from Germany and the other from West Africa, and fellowships as members of Interdisciplinary Fellow Groups. From 2021 until 2026, MIASA will grant some 20 fellowships per year in total. 
Find more details on the soon-to-be-published call on:
» Research focus 2020/21 selected: Environmental Humanities
We are proud to announce that the FRIAS Scientific Advisory Board has selected the research focus 2020/21: "Building and Researching Resilience in the Environmental Humanities". The focus group consists of two former FRIAS fellows, Evi Zemanek, Professor of Media Ecology and Comparative Media Studies, and Sabine Dabringhaus, Professor of East Asian History. They are joined by Hartmut Fünfgeld, Professor of Geography of Global Change, and Melanie Arndt who will take up the Chair of Economic, Social and Environmental History at the University of Freiburg on April 1 this year, the only chair with this denomination in the whole of Germany.
LOOKING FORWARD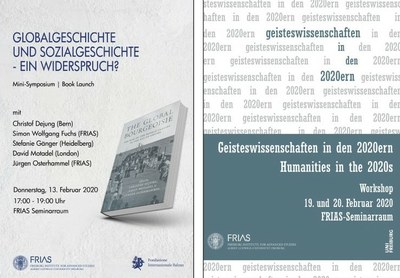 » Inauguration of the Balzan-FRIAS Project in Global History
On February 13, 2020, the Balzan-FRIAS Project in Global History, led by Distinguished Fellow Professor Jürgen Osterhammel, will be inaugurated with a Mini-Symposium. Under the leading question on the intertwining of social history and global history, Jürgen Osterhammel will present together with his co-editors Christof Dejung  (Bern) and David Motadel (London) the recently published book The Global Bourgeoisie: The Rise of the Middle Classes in the Age of Empire (Princeton University Press, 2019). Professor Stefanie Gänger, Professor of Modern History at the University of Heidelberg and co-leader of the Balzan-FRIAS project, as well as Junior Fellow Dr. Simon Wolfgang Fuchs will join the editors for a panel discussion about the challenges and chances that arise when social history is pursued from a global point of view.
February 13, 2020, 5:00 – 8:00 pm
FRIAS seminar room & lounge
» FRIAS Workshop "Humanities in the 2020s"
In the December issue of the FRIAS Express, we announced our FRIAS workshop on the "Humanities in the 2020s", which is about to take place on February 19-20, 2020 here at FRIAS. With this workshop, which was inspired by an international conference organized by the Volkswagenstiftung in 2019, we would like to focus on the development of the humanities in the new decade: What are topics that will gain relevance to the humanities in the future, how can scholars in the humanities contribute to social debates and discourses and how can they render their research more visible? What would be suitable measures to implement these aspects in teaching, graduate education and research?
February 19-20, 2020
FRIAS Seminar room
More information, including the detailed programme
LOOKING BACK
» Freiburger Horizonte lecture with climate researcher Hans von Storch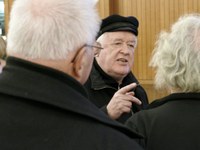 The key FRIAS format serving the 'third mission ' of universities and research institutions is the Freiburger Horizonte lecture series, in which we invite experts from areas such as research, politics, culture, and economics to talk about topics that are highly relevant to society. On January 28, a very large audience welcomed Professor emeritus Hans von Storch, climate researcher and former head of the Helmholtz Institute for Coastal Research ("Institut für Küstenforschung") who discussed "Climate Models" as "Tools for Analyzing and Projecting Climate Change", a topic not only of interest to a broader non-academic public but also to this year's focus group on "Environmental Forecasting". If you missed the lecture, you find a short report on our website.
Research on climate change and the environment becomes more and more a FRIAS profile field. For that reason, we are proud to announce that several other lectures on the topic will follow this year. Express readers living in town or nearby might already save the date of the next lecture-cum-debate: On April 28, 2020, Professor Ottmar Edenhofer (Potsdam) and Professor Lars Feld (Freiburg) will discuss the "Climate Package", a set of regulations and standards in areas related to climate change, the German government presented in 2019.
More information on the Freiburger Horizonte lecture series
» Donor found for FRIAS artwork "House V" by Werner Pokorny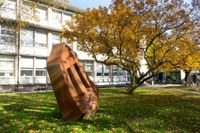 For those of you who have known the FRIAS venue for a while, the view of the institute wouldn't be the same without its characteristic artwork. "House / House V" by Werner Pokorny was set up in front of Albertstraße 19 in the very beginning of FRIAS in 2008. For several years, however, it was unclear whether the sculpture would remain in place. With the help of the "Neue Universitätsstiftung Freiburg", a group of private persons were found who agreed to formally donate  "House V" to the university. It seems like a mark of fate that almost at the same time as FRIAS received the news of permanent funding in December, the long uncertain fate of "House V" was also decided in favour of FRIAS!
PEOPLE AT FRIAS
» New fellows have joined our ranks: Welcome, Janet Johnson, Alison Moore, Benjamin Nathans, Ariane Borlongan and Anna Mauranen!
By now many of you will have already met the new faces of FRIAS: In early January, Professor Janet Johnson from Brooklyn College (Political Science), and Professor Alison Moore from Western Sydney University (History of Medicine) arrived at FRIAS. Last week we were joined by Professor Benjamin Nathans from the University of Pennsylvania (History) and Dr. Ariane Borlongan from Tokyo University of Foreign Studies (sociolinguistics). From next week, Anna Mauranen, Professor of Linguistics from the University of Helsinki and President of the Finnish Academy of Science, will stay at FRIAS for a fortnight as a guest researcher. Welcome!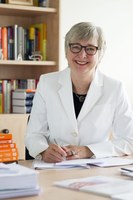 » FRIAS SAB member Dorothea Wagner elected as chairwoman of the German Science Council
 We are proud to have renowned researchers and experts from a variety as member of our Scientific Advisory Board. One of them, Dorothea Wagner, Professor of Informatics from the Karlsruhe Institute for Technology (KIT) was now elected as chairwoman of the German Science Council. Wagner, who was awarded the Konrad Zuse medal by the German Informatics Society (GI) last year, now presides one of the most influential science organisations in Germany. FRIAS cordially congratulates! 
LATEST PUBLICATIONS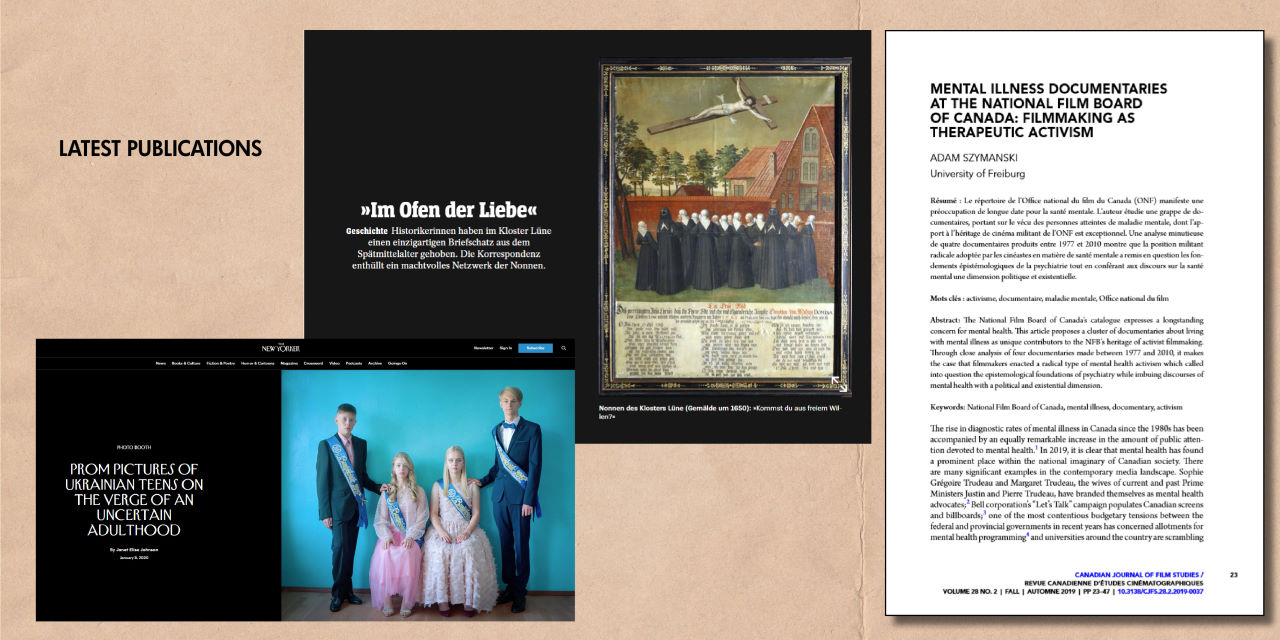 » When research goes beyond academia: FRIAS fellows in the media
It is always one of our proudest moments when FRIAS fellows make it into the public media: Thus, in early January 2020, the New Yorker published an article by Professor Janet Johnson on adolescence in Ukraine. She sees the situation of uncertainty, in which many Ukrainian teenagers find themselves due to the unstable political and economic state of affairs, represented in a series of photographs by the Israeli artist Michael Chelbin. Janet's article is a truly good read.
The first 2020 issue of the German news magazine DER SPIEGEL featured a report on the current research project of Henrike Lähnemann, Professor of German Medieval Studies at the University of Oxford and annual FRIAS fellow. A unique set of late medieval letters sent and received by members of the nunnery in Lüne allows Lähnemann and her co-researcher Dr. Eva Schlotheuber from the University of Dusseldorf to travel back in time and disclose more facets of medieval life. Unfortunately, the article is only available to subscribers of the SPIEGEL. If you are interested, just address the FRIAS press office for a copy.
 » Filmmaking as Therapeutic Activism by Adam Szymanski
The defining features of Institutes of Advanced Studies prominently include the opportunity for an inspiring exchange across disciplines. Thus we are always very happy to point to fellows of ours who succeeded in doing innovative interdisciplinary research. This is the case for Junior Fellow Dr. Adam Szymanski from McGill University Montreal, who combines film studies and psychology. In his latest publication "Mental Illness Documentaries at the National Film Board of Canada: Filmmaking as therapeutic activism" (published in the Canadian Journal of Film Studies 28), he analyzes how filmmakers enact mental health topics and enter the discourse on psychotherapy on a political and existential level.
DIRECTOR'S CORNER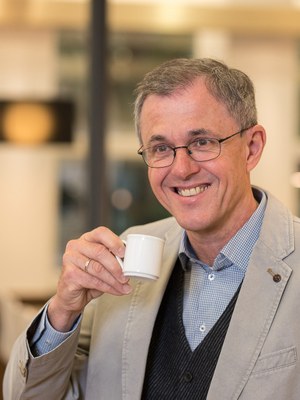 Little to say – the Director already authored the intro to this Express. But maybe this: rarely have I experienced a January where so much concrete planning has been going on simultaneously and so early in the year.  This concerns, besides the normal fellowship stays, the planning of shorter or longer stays of truly distinguished scholars, leaders in their fields and inspiring invited speakers, and the organization of landmark workshops and conferences. 2020 will see a series of scholarly and intellectual highlights at FRIAS and U Freiburg – it's great to be in the middle of all this and help make these things happen, supported by a strong and motivated team!