FRIAS Express December 2019
Dear FRIAS Community,
although it's still a few days until Christmas, it feels as if Santa Claus has already climbed down the FRIAS chimney and left some wonderful presents: Late November and December brought many exciting news we are more than happy to share with you before taking leave for Christmas and the precious season "between the years", as we say in Germany!
We thank you all for your engagement with and within the FRIAS community, and wish you and your families a happy and successful new year 2020!
TOP NEWS
» FRIAS now is a permanent institution: Decision by state parliament of Baden-Württemberg 

After more than 12 years as a project, receiving evaluation-based restricted project funding of 5-2-3-2-1 years, it is from January 1, 2020 onwards that FRIAS receives permanent funding. In the state budget for 2020 and 2021, as agreed upon by the state parliament on December 18, it is for the first time that FRIAS funding will become an integral part of the basic budget of the University of Freiburg. Thus, FRIAS is now fully "owned" by the University. It has taken many years of hard work at FRIAS and by the Rector of the University to reach this crucial point. On the ministry's and parliament's sides, it means that the important work FRIAS has done over the past 12 years, in general, and the many achievements of FRIAS 2.0 from 2014 onwards, in particular, have not gone unnoticed. This is a moment to take a deep breath and be grateful!   
» Merian Institute for Advanced Research in Africa (MIASA)
December 4 brought relief to all those at FRIAS who were involved in developing and supporting the Merian Institute for Advanced Studies (MIASA) in Legon, Accra in Ghana. The Federal German Ministry of Education and Research (BMBF) decided to move this IAS for the Humanities and Social Sciences on to the main phase from September 2020 onwards. MIASA, initiated by a German consortium headed by Professor Andreas Mehler from the Arnold-Bergstraesser-Institute (ABI) and FRIAS director Professor Bernd Kortmann, will receive 12 million Euros research funding for a period of six years (8/2026). One of the major aims of MIASA, for which FRIAS served as a kind of blueprint and which is to a large part managed by FRIAS, is to reduce global asymmetries in producing and distributing academic knowledge and to render African research(ers) more visible.
» FRIAS expands its activities in the field of human rights research: Human Rights Research Consortium (HRRC) has been established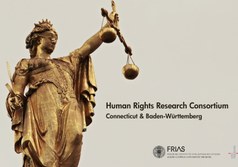 The US state of Connecticut and the state of Baden-Württemberg are home to excellent institutes, scientists, and scholars from different disciplines doing research on human rights. Researchers from institutes prominently including the Human Rights Institute of the University of Connecticut, Yale University, the Max Planck Institute for Comparative Public Law and International Law in Heidelberg and FRIAS now formed a transatlantic consortium sponsored with 150,000€ by the Baden-Wuerttemberg Ministry for Science and the Arts for 2020. The state of Connecticut will take care of the matching amount in the years 2021 and 2022. Four interdisciplinary working groups with a focus on science reflection, philosophy, international relations, and education will explore international human rights from different perspectives. A collaboration with MIASA in Accra, Ghana, is also envisaged. FRIAS fellow Professor Silja Vöneky is head of the working group "Human Rights, Science, and Technology". The consortium, for which FRIAS serves as the centre for all scientific activities and the administrative hub on the German side, has already taken up its work. In May 2020, FRIAS will host a conference in which all HRRC working groups will come together and present preliminary results to a broader academic public.
» Freiburg has been selected as ELLIS Unit: AI Rector's Fellowships at FRIAS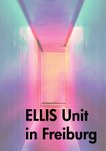 Initiated in 2018, the European Laboratory for Learning and Intelligent Systems has selected 17 institutions in which a so-called ELLIS unit will be established. These units promote and support European researchers working in the field of AI and machine learning. FRIAS fellow Professor Wolfram Burgard, who is also a member of the FRIAS-based SALTUS! Group, forms part of the Freiburg ELLIS unit, together with four other AI experts from the University of Freiburg.
With the ELLIS unit, FRIAS is able to further develop its competences in AI research: In the next five years, all 5 members of the unit will be invited to conduct their research and engage with the interdisciplinary FRIAS community as Rector's fellows for up to one year each. 
LOOKING FORWARD
» New Administration Executive Dr. Annette Doll
After a vacancy of almost two years, FRIAS will soon have a managing director again: Dr Annette Doll will take the lead of FRIAS administration on January 15, 2020. Previous to working as a programme director for the group "Scientific Library Services and Information Systems" at the German Research Foundation (DFG) head office in Bonn, she had been head of the KoWi office in Brussels (KoWi is the European Liaison Office of the German Research Organisations) and the New York DFG office. We are convinced that due her numerous experiences in top-level (inter-)national research management, Dr Doll will enrich FRIAS and its fellows with numerous new perspectives and ideas.
» Goodbye 2019, hello new fellows
January and February will be busy with the arrival of several new fellows: In January, we will welcome Professor Janet Johnson from the Department of Political Science of Brooklyn College, New York, and Professor Alison Moore from the Western Sydney University (History of Medicine). Joining us in February will be linguist Dr. Ariane Borlongan from the Tokyo University of Foreign Studies and Professor Benjamin Nathans from the University of Pennsylvania (History) will join us.
We also have to say goodbye to two of our fellows who are leaving us in December: Professor Anssi Peräklyä from the University of Helsinki (Sociology),  Dr. Julie Casteigt from the University Toulouse II-Jean Jaurès (Medieval Philosophy) and Professor Erwan Rousseau from Aix-Marseille University (Mathematics). We were glad to have you here and hope you will join us again in the future!
» Save the date: FRIAS will host a workshop on Humanities in the 2020s
Building on the discussion in our Interdisciplinary Colloquium on the future of the humanities in October, FRIAS will host a workshop titled "Humanities in the 2020s" on February 19 and 20, 2020. With participants from U Freiburg, selected external speakers, and interested Fellows we want to discuss issues such as future research topics, ways to contribute to societal debates and increase visibility, and how to implement the latest developments in research, teaching and graduate studies.
Stay tuned for more details on the workshop programme in January!
PEOPLE AT FRIAS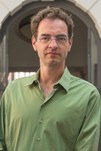 » Carsten Dormann among Highly Cited Researchers 2019
In late November, the database Web of Science published a ranking (Highly Cited Researchers) that lists the most influential researchers judged by the number of citations. One of them is FRIAS Senior Fellow Professor Carsten Dormann who belongs to the top 1% of ecologists. His research focuses on methodology and how to further enhance statistical models in ecology – an interest he also pursues with his colleagues Professor Stefan Baumgärtner and Professor Kerstin Stahl as the team forming the current FRIAS research focus "Environmental Forecasting". Congratulations!
» Henning Jessen receives ERC grant for his research on bacterial stress neurotransmitters
It was only last week that the European Research Council pronounced this year's batch of ERC grants recipients. One of the three Freiburg researchers who were granted the prestigious ERC consolidator grant is FRIAS fellow Henning Jessen, professor of bioorganic chemistry. In his ERC project, he works on the so-called "stringent response" that is triggered when bacteria react to stressors such as temperature shocks or antibiotics. His findings might lead to the development of new antibiotics that repress this bacterial reaction and thus hinder the multiplication of bacteria. Congratulations!
» FRIAS Alumna Johanna Pink receives ERC grant for her research on Qu'ran translations
Together with Henning Jessen, Johanna Pink, professor of Islamic studies and FRIAS fellow in 2015/16, was awarded a ERC consolidator grant, too. Her new project is closely linked to the research she pursued while being a FRIAS fellow: After focussing on contemporary Qur'anic exegesis, she now works on translations of the Qu'ran and on how different translations mirror specific concepts such as the idea of God or the status of non-Muslims. Congratulations!
LATEST PUBLICATIONS
» LERU Paper on International Language Policies by FRIAS director Bernd Kortmann

What is the role of national language(s) and foreign languages, especially English, in education and research at European universities? How can universities ensure the quality of teaching in foreign languages? Questions like these are tackled in the briefing paper "Language Policies at the LERU member institutions", written by Bernd Kortmann, Professor of English Linguistics, and published by the League of European Research Universities (LERU). Kortmann is the current Chair of the LERU policy group for the Humanities and Social Sciences. By taking a close look at the situation of multilingualism in higher education institutions in Europe and by carving out the benefits of institutional language policies, he proposes ways of how such policies can be implemented.
DIRECTOR'S CORNER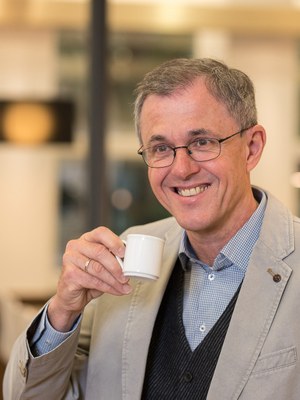 Of the more than 6 years I have had the honour and pleasure of serving as the Director of FRIAS, this undoubtedly is the 'bestest' December feeling as regards the institute I've had ever! And even better, it is much more than a feeling -- it is a certainty! Above all, FRIAS has now left the status of "stability in fragility" it has 'enjoyed' especially over the past 6 years: it no longer depends on project funding but, as of January 1, FRIAS will be financed from the basic structural budget of the University.  This is of great relief for the entire FRIAS team as well. This piece of news alone would make a FRIAS director happy.
But there is much more: For the next 3-5 years (at least), certain thematic strands will be permanently present at FRIAS and can be pursued more systematically: Responsible Artificial Intelligence, Environmental Humanities, Global History (via Jürgen Osterhammel's Balzan group), Human Rights research, Science and Technology reflection, AND Africa-related research, especially (but not exclusively) in the Humanities and Social Sciences. Various of these thematic strands will also be intertwined. Moreover, and this is an extremely fascinating perspective for an IAS in the Global North, FRIAS will soon be home to many experienced and early career researchers from Africa, in close collaboration with MIASA in Accra and the newly founded Africa Centre for Transregional Research at the University of Freiburg. Concerning the Africa perspective, we are speaking of a time frame of at least ten years as, following its main phase funding until 8/2026, the MIASA-funding during its final phase will undoubtedly continue right until the year 2030. All of these mid-to-long-term developments will be accompanied and increasingly shaped by our new managing director, who will take up her position on January 15. We are setting high hopes in her team management skills and her profound experience with research consulting, 'shepherding' applications, and managing decision processes at top-level national and international funding institutions. All in all, then, FRIAS is now more than well set for the 2020s!
Time for the Christmas break to come and embrace! Dear readers, in the name of my fellow directors and the entire FRIAS team, let me wish all of you -- our fellows, alumni, board members, and the many friends FRIAS has made over the past years -- most warmly a Merry Christmas and a Happy New Year! Thoroughly enjoy the days and weeks ahead with your families and friends!