"Language Policies at the LERU member institutions" - FRIAS director Professor Bernd Kortmann publishes briefing paper for the League of European Research Universities (LERU)
What is the role of national language(s) and foreign languages vis-à-vis English in education and research at European universities? How can universities ensure and enhance the quality of teaching in foreign languages? The paper "Language Policies at the LERU member institutions", written by FRIAS director Professor Bernd Kortmann and published by LERU, addresses these questions in a twofold way: First, by taking stock of the situation, with a special focus on LERU universities and their national context. Second, by focusing on the benefits of institutional language policies.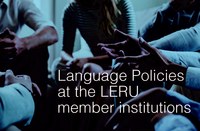 Image: LERU.org
Language and languages have always mattered in university education, especially in the humanities and social sciences. But this importance has grown and will continue to grow, for instance because of the increasingly multicultural classrooms. These require good quality language skills of academics, but also of non-academic staff members providing support and services to international students and scholars. Next to that, the diminished language skills often observed with students to use language, even their mother tongue, in an academic context, are a challenge for universities. The LERU paper seeks to help higher education institutions to respond to these and other language-related concerns.
The paper analyses the relevant aspects of institutional language policies and some practical measures taken by individual LERU universities, to conclude with recommendations for useful and necessary elements of such policies and for their implementation and monitoring. "This paper is hoped to serve as a practice-informed source of inspiration for universities in Europe, for LERU members and beyond", concludes Bernd Kortmann, Director of the Freiburg Institute of Advanced Studies, Chair of the LERU SSH policy group and lead author of the paper.
Source: https://www.leru.org/news/language-policies-at-the-leru-member-universities
More information:
- Website of the League of European Research Universities (LERU)
19/11/25