Secretary-General of the SPD Yasmin Fahimi visits FRIAS
On August 27, Yasmin Fahimi, secretary-general of the German Social Democratic Party (SPD), visited FRIAS together with her colleagues Gabi Rolland, member of the legislative assembly of Baden Württemberg, and Gernot Erler, member of the Federal Parliament (Bundestag).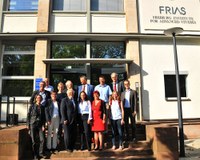 A central topic in the discussion with Vice Rector Gunther Neuhaus and FRIAS director Bernd Kortmann among others were the working conditions for junior researchers and administrative employees at German universities, as well as possibilities to reduce the number of short-term contracts. Yasmin Fahimi stated that universities should make use of fixed-term employment in a responsible way, taking into account the interests of research as well as employees. Vice Rector Gunther Neuhaus agreed and illustrated ongoing efforts by the University of Freiburg to deal with this issue. He also invited Yasmin Fahimi to further visits to Freiburg in order to inform her about current and politically relevant research foci at the university.
08/2015