Royal Decoration for John Nerbonne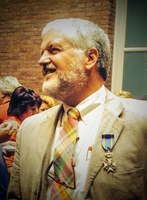 On Friday 25 April 2014, John Nerbonne received Royal Decoration. Professor Nerbonne has been appointed Knight of the Order of the Netherlands Lion. The selection committee appraised John Nerbonne's exceptional scientific quality and his administrative talents which also lead to Prof. Nerbonne's invitation to participate in many boards related to linguistics, both national and international. His election in 2005 to the Royal Netherlands Academy of Arts and Sciences (KNAW) and being awarded the prestigious German Alexander von Humboldt Prize in 2012 were also judged to bear witness to his exceptional services to his field.
Although on April 25th around 3.000 persons were appointed knight, only 14 others received the royal title "Knight of the Order of the Netherlands Lion".
04/2014