FRIAS-researcher David Kauzlaric is part of the Ocean Cleanup Project

On June 3rd, 10AM EDT in New York City, Boyan Slat (Delft), leader of the Ocean Cleanup project presented the results of one-and-a-half year of thorough study in a feasibility report on how to clean the oceans from millions of tons of plastic. Dr. David Kauzlaric (University of Freiburg, FRIAS+IMTEK) together with the two Microsystems Engineering students Niklas Wehkamp and Nandini Sivasubramanian is one of now more than 100 volunteers who contributed to the project. Their part of the job was a three dimensional computational fluid dynamics study investigating the transport of plastic particles along the depth and surface of the ocean close to a floating barrier. The three engineers, together with the supporting members of FRIAS and IMTEK, are very proud to have contributed to this.
As Boyan Slat mentioned in his talk, the study shows no reasons why the concept could not work. This means for the first time ever, there is a likely financially and technically feasible way of removing plastic from the oceans on a large scale. "We are all very happy with these results. The project will now enter the next phase and we are looking forward to being part of this. Just like Boyan, we cannot wait to see this concept become true, and we can start cleaning our oceans", says David Kauzlaric.
For further details of the study, the project, the next phase and the started crowdfunding-campaign please turn directly to The Ocean Cleanup Foundation via this page or write to press@theoceancleanup.com.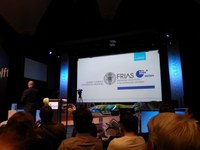 (Permission from Leonid Pavlov, Ocean Cleanup CFD & CM coordinator)
06/2014