Mobility Across Borders - FRIAS News 14 published
The 14th issue of the FRIAS NEWS with the title "MOBILITY ACROSS BORDERS" has just been published. The latest issue introduces individual fellows from the academic year 2016/17 and their research projects and provides an overview of current developments at the Institute.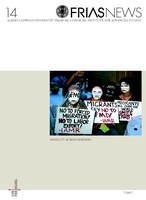 This issue reflects upon the concept of mobility. The interview with FRIAS project group "Trajectories of Flight and Migration" introduces their research on individual stories of refugees and reflecting their experiences during flight.
The topic of migration is also central aspect of the research group led by JProf. Bernhard Spielberg. Together with Anna-Maria-Müller, Franziska Seidler and Simon Ruscher, he analyses global transformational processes that influence modern Catholicism.
The category "portrait" introduces three of the FRIAS fellows and their work. The Argentine ecologist Diego Vázquez explains how climate change affects the interdependence of plants and bee species. The British legal and political scientist Martin Loughlin talks about his interest in constitutional law and its impact on modern political thinking. The electronics engineer Ghada Ibrahim presents her research on the use of organic materials in modern electronics like screens and body sensors. FRIAS Alumna Monika Bednarek, professor of English linguistics at the University of Sydney, speaks about her great interest in TV series and how they shape and introduce language innovations.
As always, the issue closes with the latest news from the Institute and an outlook on further events at FRIAS.
To order your free print copy please contact us: presse@frias.uni-freiburg.de
English Translations
Editorial S. 3-4
Migration can be regarded as the greatest force of change in religion S. 8-11
Previous issues:
2017/08/18