Time and space for research: Call for Applications for FRIAS Fellowships and funding programmes 2019/20
Concentration on your own research project, curiosity-driven search for new knowledge and exchange with international colleagues from different disciplines: the Freiburg Institute for Advanced Studies (FRIAS) enables free space for research.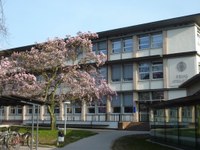 The institute offers a stimulating working environment, comprehensive support for research projects, networking possibilities with international researchers and access to the excellent infrastructure of the University of Freiburg. It unites under its roof the humanities and social sciences, medicine, the natural and life sciences, and engineering and actively promotes exchanges between the different academic disciplines.
For the academic year 2019/20, FRIAS offers fellowships, project groups and junior researcher conferences within the framework of five different programs. Outstanding early-stage researchers and established professors from the University of Freiburg are invited to apply, as well as junior and senior researchers from abroad (FCFP). Researchers from Freiburg thus also have the possibility to invite colleagues from their international networks to an extended stay in Freiburg.
Call for Applications for external researchers (Marie S. Curie FRIAS COFUND Fellowship Programme)
Deadline: September 15, 2018
Calls for Applications for established and early stage researchers from the University of Freiburg
Deadline: October 31, 2018