Bernd Kortmann presents at Colloquium "Seele - Körper - Geist"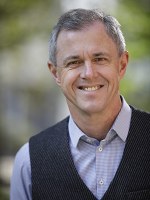 (c) Jürgen Gocke
On November 10, 2020, FRIAS Director Bernd Kortmann shared his thoughts on the Corona pandemic in the colloquium "Körper - Seele - Geist" (Body - Soul - Mind) organized by the Department of Psychosomatic Medicine and Psychotherapy. You are cordially invited to watch the podcast of the event on Panopto.
The director recommends: "To all those, who are (a) interested in the latest information on the pandemic in Germany and especially in Freiburg and (b) looking for answers to almost every question on Corona and a prospect for the next weeks and months, I recommend the presentation by Winfried Kern, Head of the Division of Infectious Diseases at Freiburg University Medical Center (very well invested 30 minutes)! For other aspects of the pandemic and its effects (eg. on the psyche), the ensuing two pesentations (20 and 15 minutes long) offer interesting insights and thoughts."