19 Minutes at 19 Degrees: Talks on the Energy Crisis
In 19-minute talks, researchers at the University Freiburg present their insights on the current energy crisis. YAS-member Dr. Benjamin Schütze kicks off the series on December 12.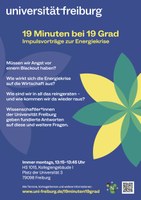 The current situation raises many questions and doubts. Do we need to be afraid of a blackout? How does the energy crisis affect the economy and how can we deal with it together? Students in particular are now faced with new challenges during this "energy crisis".
Given these unprecedented times, we are now presented with the opportunity to consider and rethink the topic of energy from a scientific perspective: How are renewable energies and authoritarian regimes related? What is the historical significance of energy? How did we get into all this - and how do we get out of it? To make these talks as accessible as possible, the lectures are only 19 minutes long. 
Dr. Benjamin Schütze, member of the FRIAS-bound Young Academy for Sustainability Research (YAS), kicks off the series on December 12, 2022. The topic of his talk (in English) is "The European energy transition and its geopolitical consequences: A MENA perspective". 
On December 19, 2022, Prof. Dr. Melanie Arndt, Senior Fellow at the FRIAS from October 2020 to July 2021 and current member of the FRIAS research focus Environmental Humanities, presents "A (very) Short History of Energy" (in German).
Regardless of your own field of study of work, the University of Freiburg and the student Sustainability Office invite students and staff in particular to engage in an exchange with scholars at the university who are researching and teaching about this highly topical subject – and also to enter into a conversation with each other about it.
When

Monday, 13:15h - 13:45h 

Where

HS 1015, Kollegiengebäude I
Platz der Universität 3, 79098 Freiburg
A summary of all the important information to the lecture series can be found here (in German).