School of Language & Literature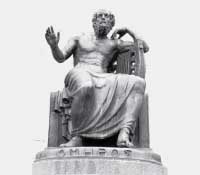 In the five years of its existence, the FRIAS School of Language & Literature served as a research institution that advocated an approach to literary studies and linguistics which was both theoretically and methodologically sophisticated and interdisciplinary. In line with the main profile of subjects offered by the school at the University of Freiburg, the main emphasis of the school's projects was on the empirical research of languages and the use of language through cognitive, corpus-based and interactional linguistic methods. In literary studies, the School of Language & Literature focussed on the scientific study of world literature that was both comparative and receptive to cultural science, concentrating on issues regarding the history of knowledge, cultural semantics, aesthetics and poetics. Exploring the productive intersection between linguistics and literary science formed one of the school's main focuses.
In addition to providing fellows from all over the world with generous opportunities for developing their individual research, the school contributed significantly to uncovering the University of Freiburg's linguistic and literary potential. By proactively recruiting fellows in coordination with the Advisory Board, it was possible to form thematic networks of international experts, early-stage researchers and colleagues in Freiburg. In linguistics, examples of this could be seen (taking into consideration European and non-European languages and varieties) in the focus areas of Geographical Variation in English, Language Contacts and Creoles, Deixis and Interactional Spaces, Interactional Grammar, and Frequency Effects in Usage-based Grammar. Meanwhile, literary studies concentrated on the topics of Representation Research, Mimesis Theory, and Inter-Arts Studies; Poetics of Knowledge, Knowledge Transfer, Literature & Science Studies; Literary Aesthetics, Hermeneutics and Cultural Sociology; as well as Interculturality, World Literature Studies and Transfer Research.
One of the school's main aims was to form productive contacts and synergies and explore epistemological bases common to both linguistics and literary studies. Significant momentum was derived from events and projects, including the international conference "Linguistics & Literary Studies: Interfaces, Encounters, Transfers" (2009), an ideas competition for innovative projects that combined linguistic and literary methodological approaches, and tandem fellowships, which saw academics from both areas work on joint, interdisciplinary projects.
Bridging the gap between disciplines in Freiburg that, up until then, were hardly linked at all, further boosted the school's profile. This included links forged by the LiLi School with disciplines such as cultural sociology and history of science, mathematics and cognitive science, psychology and clinical medicine. Particular highlights comprised the conference "Numbers, Signs, and Figures: Mathematical Inspirations in Literature and the Arts" (2008), in addition to a hearing on "The Significance of Cultural Sociology for the Humanities" (2010) and the neurological conference on "Processing along Dorsal and Ventral Streams in the Brain" (2011).
Due to its close collaboration with the humanities and cultural sciences at the University of Freiburg, the school took on the role of an ideas generator and research platform. This strategy was reflected by the school's vital role in the application for three DFG grants for collaborative research centres in the humanities promoted by the active participation of internal and external LiLi fellows, as well as through intellectual, financial and logistic support and ideas.
To present its research results, the school founded the renowned multilingual book series linguae & litterae, which has an anonymous peer review process and is published by the leading specialist publishing house, De Gruyter (Berlin/Boston). As of October 2013, 22 volumes of this LiLiLibrary were available, with another 40 in preparation.
Directors
Scientific Coordinator
Dr. Gesa von Essen
Scientific Advisory Board
Prof. Dr. Michel Espagne, École Normale Supérieure Paris, France (2008-2013)
Prof. Marino Freschi, Università degli Studi Roma, Italy (2011-2013)
Prof. Dr. Erika Greber ✝, Universität Erlangen-Nürnberg (2008-2011)
Prof. Dr. Ekkehard König, FU Berlin (2008-2013)
Prof. Dr. Michael Lackner, Universität Erlangen-Nürnberg (2011-2013)
Prof. Dr. Per Linell, Linköping University, Sweden (2008-2013)
Prof. Dr. Angelika Linke, Universität Zürich, Switzerland (2011-2013)
Prof. Dr. Christine Maillard, Université de Strasbourg, France (2008-2013)
Prof. Dr. Lorenza Mondada, Université de Lyon 2, France (2011-2013)
Prof. Dr. Pieter Muysken, Radboud University Nijmegen, Netherlands (2008-2013)
Prof. Dr. Wolfgang Raible, Universität Freiburg (2008-2013)
Prof. Dr. Miri Rubin, Queen Mary University of London, UK (2008-2011)
Prof. Dr. Monika Schmitz-Emans, Universität Bochum (2011-2013)
Prof. Dr. James J. Sheehan, Stanford University, USA (2008-2011)