FRIAS Express September 2018
Dear FRIAS Community,
academic life at FRIAS will be in full swing only by October, and yet behind the scenes the Institute is already buzzing with anticipation and preparations for the new academic year.  Moreover, September already sees two international conferences, apart from the first fellows of the new generation setting up their workplaces and living arrangements with the help of FRIAS' formidable fellow support team.
Attentive readers of the FRIAS Express have followed the development of the MIASA project from its very first steps. We are proud to announce that one major milestone in the foundation process of the Maria Sibylla Merian Institute for Advanced Studies in Africa, the MIASA kick-off conference, is right around the corner. Hosted by the University of Ghana, Accra, it will take place on September 27th and 28th. Together with the director of the Arnold Bergstraesser Institute, Andreas Mehler, and FRIAS director Bernd Kortmann, a range of distinguished keynote speakers and panelists will inaugurate this exciting enterprise, funded by the German Federal Ministry of Education and Research.
Closer to home, another highlight to look forward to are the interdisciplinary research projects taking up their collaborations in October, the newly selected FRIAS Research Group "SurFace" and, above all, the FRIAS Research Focus "Interaction between humans and autonomous intelligent systems". The latter will strengthen FRIAS' endeavour in developing ever more strongly into the hub at U Freiburg where reflection on science and technology takes place.
And last but not least, applications for fellowships and project groups 2019/20 are well underway, initiating a new cycle of academic life at FRIAS. So far each academic year at FRIAS has proved to be full of surprises and, in most cases, fascinating new opportunities and developments, not to forget the new challenges, which is why everyone at FRIAS is eager to see what the academic year 2018/19 will bring. There is more than one reason to assume that it may turn out to be even more special than the many special academic years FRIAS has seen and experienced in the past.
TOP NEWS
» New external and internal fellows in the academic year 2018/19
Once more, FRIAS provides time and space for research for a multidisciplinary community of internal and external fellows, with the FRIAS trademark mix of research topics and disciplines. Research stays last from 3 to 12 months. Having succeeded in a highly competitive selection process, the first fellows have already arrived in Freiburg. Find out more about our current generation of fellows and their research projects here.
» Selection of FRIAS Project Group 2018/19
In their summer meeting, the FRIAS scientific advisory board has selected the the project SurFace. A group of archaeologists from different archaeological sciences will focus on the examination of image-artefact-relations from the Neolithic to the Early Middle Ages. More information on the group and its organisers can be found here.
Please note that the current call for project groups 2019/20 is open until October 31st 2018.
» Selection of FRIAS Research Focus 2019/20
The FRIAS scientific advisory board has also selected the new FRIAS Research Focus 2019/2020. An interdisciplinary group of researchers from the Faculty of Environment and Natural Resources of U Freiburg will investigate different cultures of modelling and their distinct goals in the environmental sciences as part of the Research Focus "Environmental Forecasting". More information on the project is provided here.
LOOKING AHEAD
» 28th Freiburg-Nagoya Joint Seminar on September 17‐19, 2018 – Economic Ideas for Business and Public Policy
The University of Nagoya in Japan is one of the international strategic partner universities of the University of Freiburg. Notably, the economic faculties of both universities have been collaborating for 50 years now. Together, they have established the tradition of the Freiburg-Nagoya Joint Seminar. The 28th seminar on Economic Ideas for Business and Public Policy takes place at FRIAS on September 17-19th, 2018. It is co-organised by members of a joint project group currently supported by Institute for Advanced Research Nagoya and FRIAS. Since January 2018, Oliver Landmann, Hans-Helmut Kotz, Naoki Fukuzawa and Yasuhiro Doi have investigated ways in which different traditions of economic thinking influence economic policy making and economic policies in Japan and the European Union. More information, including the conference programme, can be found here
» FRIAS Junior Researcher Conference on September 24-26, 2018 – "Popularität [Popularity]"
The conference "Popularität: Lied und Lyrik vom 16. bis zum 19. Jahrhundert" offers multidisciplinary insights on the popularity of songs and poetry from the 16th to the 19th century. To get to the root of what determines popularity, it will discuss and relate aspects of the production, mediality and reception of popular lyrical texts. Contributions come from the fields of literary studies, musicology, linguistics, (art) history and theology. All talks will be held in German. More information and the conference programme can be found here.
» MIASA Inaugural Conference on 27-28 September, 2018
The first phase of the Maria Sibylla Merian Institute for Advanced Studies in Africa (MIASA) will be launched with an international kick-off conference at the University of Ghana, Accra, on 27-28 September 2018. The topic of the conference is "Africa's Institutions for Sustainable Governance".
This inaugural event will feature the fundamental role of Africa's institutions, past and present, in shaping sustainable governance in the fields of democracy, conflict management, economy and socio-ecological transformation. The presentations and discussions at this conference will profit from the knowledge and experience of internationally leading academics, experts and professionals from different disciplines in the humanities and social sciences. More information can be found here
RECOMMENDED READS
» Science (and life) lessons from Nobel Laureates - Milena Bertolotti shares insights from the 68th Lindau Nobel Laureate meeting

Amongst numerous applicants from all over the world, FRIAS Junior Fellow Milena Bertolotti was selected to attend the renowned Lindau Nobel Laureate meeting from June 24-29, 2018. Together with 600 young researchers from 84 nations, she was granted the opportunity to meet 39 Nobel laureates from the fields of medicine, physiology, and chemistry. Read about her experiences and insights here.
» Social robots in rehabilitation - Philipp Kellmeyer and Oliver Müller publish article in Science Robotics
Philipp Kellmeyer (neurology) and Oliver Müller (philosophy), fellows and members of the FRIAS research focus 2018/19 exploring "Emerging ethical, legal, philosophical and social aspects of the interaction between humans and autonomous intelligent systems", have published an article in Science Robotics on the key role of trust in the therapeutic success of social assistive robots in rehabilitation. The article is co-authored by Shelly Levy-Tzedek, head of the Cognition, Aging & Rehabilitation Laboratory at the Ben Gurion University in Israel, and currently FRIAS research fellow. Visit here for more information and the full reference, and here for a German language interview with Philipp Kellmeyer on the same topic.
DIRECTOR'S CORNER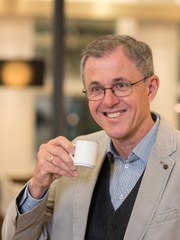 It's September. Like in every academic year, and just like all universities and academic institutions around the globe at this point in time, FRIAS can't wait to start the new cycle of academic activities and encounters. So, business as usual? Not at all! With the 10 year anniversary just behind us, this academic year will decide on the future of the Institute in the next decade. FRIAS is right back where it never wanted to be – in the middle of the vagaries of the (now third) round of the German Excellence Initiative (this time called: Excellence Strategy). German universities are looking in awe at September 27, when the results of the extremely tough selection process of new excellence clusters (running in a first phase from 2019 to 2026) will be publicly announced. So the temperature is constantly rising everywhere in German academia these days. This applies to U Freiburg, too, which has two very strong research clusters in the race and which needs both of these candidates to be successful to qualify for the ultimate race for the title of a German University of Excellence (and the VERY significant additional funding going with it). Decision: in July 2019. Well, one way or another, the outcome of all this will have important repercussions for FRIAS. So I trust the readers will understand that on September 27, while delivering a speech, moderating a roundtable, and conversing with high-ranking officials, guests of honor, and the participants of the inaugural MIASA conference in Accra, my thoughts will also be in Freiburg – and most likely there will be more than one phone call or Skype conversation with our university leadership on that day. Anyway, dear friends of FRIAS, muster all your optimism, keep fingers and toes doubly crossed whenever you find the time in the weeks and months ahead – and wait for regular updates from the roller coaster in the FRIAS Express! But let me also, in the name of the entire FRIAS team, wish every single one of you a successful and enriching new academic year as well!