Social robots in rehabilitation
Philipp Kellmeyer and Oliver Müller, members of the FRIAS research focus 2018/19, publish article in Science Robotics.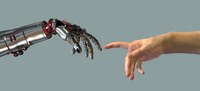 © Linda Bucklin / Shutterstock.com
Philipp Kellmeyer, neurologist at the University Medical Center Freiburg, and Oliver Müller, Professor for Philosophy at the University of Freiburg, published their article "Social robots in rehabilitation: A question of trust" in Science Robotics. The researchers argue that social assistive robots (SARs) in rehabilitation can support, but not replace, human physical therapists, and that building trust between patients and SARs is key to the success of the therapeutic approach.
SARs can provide rehabilitation assistance for patients with motor, cognitive, speech and language impairments. The robots can take responsibilities off nursing and therapeutic staff and take over tasks like the repetition of movements, speaking and interacting with patients.
According to the authors, a successful therapy can only be achieved if patients trust the robot and feel safe and understood. It is, therefore, necessary to enable the robot to capture, interpret and predict human movements. Apart from the physical conditions of the patient, the robot needs to recognize the cognitive, emotional and psychological condition of a patient and must be able to adjust the therapy accordingly. Vice versa, the patient has to be able to predict the robot's movements and actions. This will increase the feeling of trust between the patient and the robot, which is essential for the success of the therapeutic approach.
Yet, the scientists argue, social robots can only assist human physical therapist, they cannot replace them. It is important to scientifically monitor and analyze the deployment of robots and other types of artificial intelligence more holistically. Together with legal scholar Silja Vöneky and computer scientist Wolfram Burgard, both from the University of Freiburg, Philipp Kellmeyer and Oliver Müller will continue to research this topic. As a part of their FRIAS research focus, they will investigate emerging ethical, legal, philosophical and social aspects of interactions between humans and autonomous systems and artificial intelligence. In this twelve months endeavor, they will be joined by Shelly Levy-Tzedek, head of the Cognition, Aging & Rehabilitation Laboratory at the Ben Gurion University in Israel, and third co-author of the published article.
Kellmeyer, P., Mueller, O., Feingold-Polak, R. and Levy-Tzedek, S. (2018). Social robots in rehabilitation: A question of trust. Science Robotics, 3(21).
More information on the publication in the German press release
More information on the FRIAS research focus
 18/08/16