About the Culture of Resettlement
The Nigerian terrorist organization Boko Haram has expelled millions of people from their home. How does forced displacement and resettlement impact culture? This question is at the center of Zainab Musa Shallangwa's research project; in which she explores the Nigerian Kanuri people from an insider's perspective.
---
Ms. Shallangwa, you study the cultural shifts among the Nigerian Kanuri people that have taken place due to the attacks by the terrorist organization Boko Haram. What is this about?
Being the ethnic majority in state Borno, the epic centre of Boko Haram violent activities, the Kanuri people were particularly affected by the Islamist fundamentalist sect's campaign of terror which made them flee their ancestral homes for safety. In my PhD thesis, I examined the effect the forced displacement had on their cultural practices such as the various rites of passage, gender roles and traditional leadership. This is because their migration is rural-urban in nature.   
My research project at FRIAS takes it a step further and analyses the reality of the people who were resettled back in their homes of origin/villages after the return of relative normalcy to the state. The question is two-fold: How do the Kanuri people manage to start over again in a place that used to feel familiar but is now completely destroyed, and how has their cultural memory and cultural identity of been affected?
What results can you tell us about so far?
Losing their homeland has, to put it briefly, facilitated both the shift towards an individualistic lifestyle from the original communal one as well as the break from original practices and traditions. A notable example for this is the fact that, since their displacement, the Kanuri people live together primarily as a nuclear family rather than as a group of various generations. Another one is that marriages between cousins have become less common. Gender roles have also been reorganized. In part, men lost the function of the sole breadwinner of their families as women gained access to employment and money. Not only did this emancipate them from the patriarchy but in some cases, women even became the head of the family. A lot also changed in terms of the right to marry, children's rights and burial rituals.
Once settled back in their villages, the Kanuri people hold on to many of their new habits. Women in particular are not ready to give up their privileges. At the same time, there is a strong desire to preserve crucial cultural assets such as food, family, and faith despite the individual lifestyle and many find it distressing not to be able to practice them.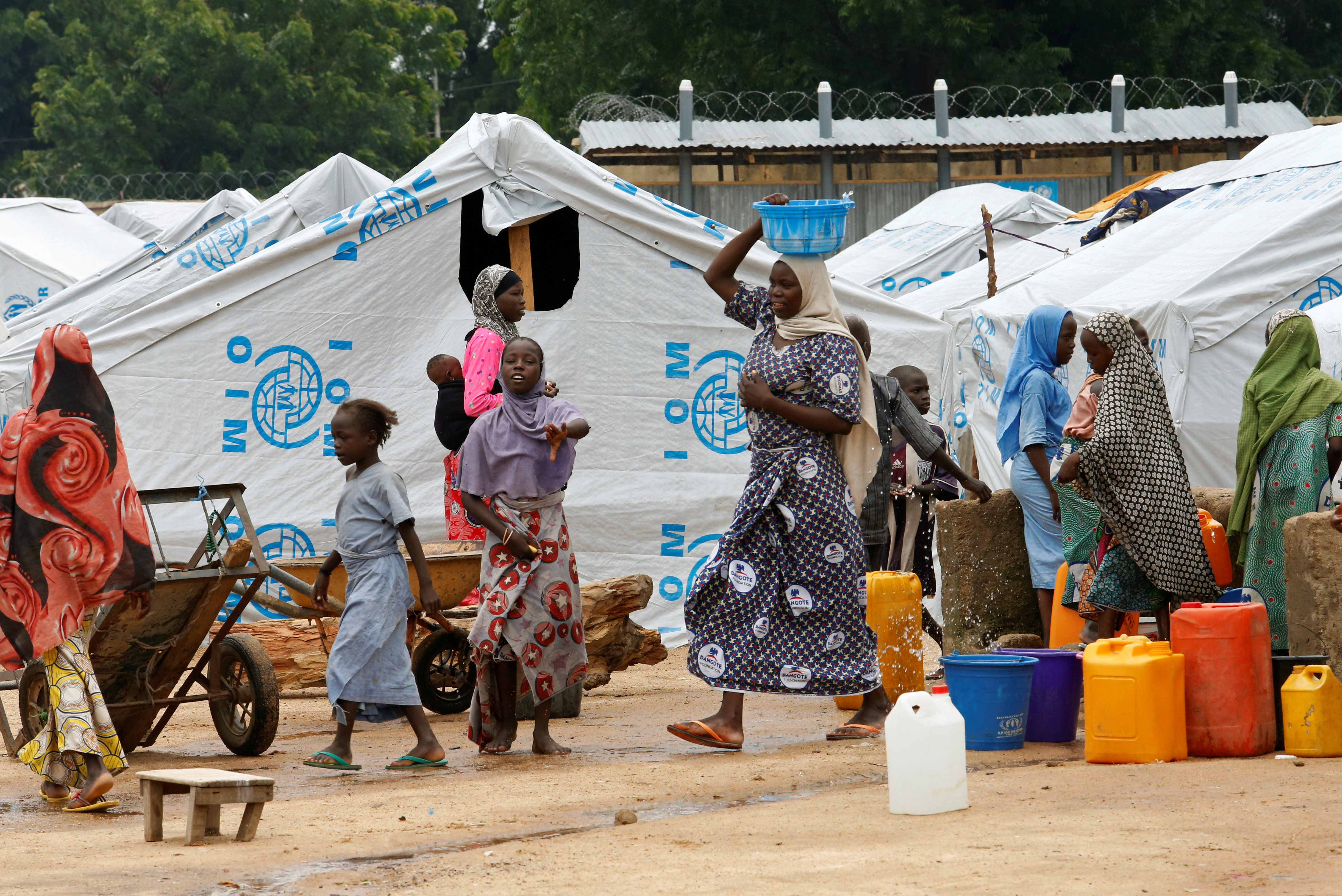 Women gather at a water collecting point at a displaced people's camp in Borno State, Nigeria. Photo: picture alliance / Reuters / Afolabi Sotunde
You are currently a Marie S. Curie-Fellow at FRIAS, yet your research is focused on Nigeria. How do you overcome the geographical distance for your project?
I was able to collect data for my FRIAS project before I arrived Germany. That has made my work a lot easier. My research is based on the Photovoice methodology. This entails giving study participants cameras to capture what they find Significant in their community and discuss them.  In my study, I work with the Kanuri people of Monguno who returned and are now resettled in ancestral home. With the use of phone cameras, my study participants were able to take pictures of things that reminds them of their culture. This was followed by discussions on the narratives behind the images they captured. One participant captured pictures of the remains of the foyer of his parents' home. He told me that this was where his father would always talk to family members or guests and how sad it made him that he is not able to continue this ritual. To keep in touch with his loved ones, he now uses the phone.
To what extent does your work contribute to improving the situation of the Kanuri people or that of other displaced people?
I am closing a gap in research because academia has paid a lot of attention to displacement, while neglecting the issue of resettlement (in the context of the Boko Haram Insurgency in Northeast, Nigeria). The Photovoice method gives a voice to those affected and allows them to express their needs themselves. My methodological approach can also be transferred to various contexts. Important is that the results need to be passed on to the responsible decision-makers. Only then can they create meaningful conditions that genuinely help those affected.
During your stay at FRIAS, the topic of Academic Freedom has been intensively discussed. What can your experiences contribute to this area?
In my opinion, Academic Freedom is relative in that it is highly contingent on the conditions in a respective country. In that sense I can contribute a change of perspective that sensitizes people to consider the term in a less universal, and more context specific way. After all, compared to Germany, there are serious obstacles in Africa when it comes to access to education, financial resources and funding; in addition, educational institutions are often poorly equipped.  We are also faced with societal structural issues, in particular gender inequality that further hinder individual scientific developments. This also includes the fact that sensitive issues such as religion must not be talked about. This makes it particularly difficult to classify 'Academic Freedom' in general terms. That is why although Nigeria is a signatory to various charters and bills on academic freedom and freedom of expression at international and regional levels, the impact is still not felt. Most academics cannot relate to the general notion of what it entails. We need to start having conversations in Africa as it affects us, particularly in Nigeria.
About Zainab Shallangwa
Zainab Musa Shallangwa is a Lecturer in the Department of Fine Arts at the University of Maiduguri, Nigeria. In 2020, she received her PhD from the University of Hildesheim with an examination of the experiences of displaced persons of the Kanuri ethnic stock, forced out of their ancestral homes as a result of the violent attacks carried out by Boko Haram. Zainab passionately considers herself an advocate for education - especially for girls. She is External Junior Fellow at FRIAS within the framework of the Marie S. Curie FCFP funding programme from October 2022 until September 2023.
Interview by Kristin Schwarz, published 20.06.2023. Photo by Emily Schlegel.