Fellowship programme in Strasbourg 2018
FRIAS partner organisation in Strasbourg offers fellowships for international researchers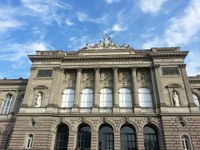 FRIAS supports the University of Freiburg's initiative to further develop a European Campus in the Upper Rhine region. This collaboration between five excellent universitites will offer outstanding research opportunities across borders.
Since 2013, FRIAS has had an excellent partnership with the University of Strasbourg Institute of Advanced Studies (USIAS). The institutes' Joint Fellowship Program enables scientists and researchers from the University of Freiburg and the University of Strasbourg to combine research expertise in joint research projects.
The USIAS is currently calling for applications for their own Fellowship Program, which is open to international scientists, researchers from Freiburg included. It is an ideal opportunity to strengthen existing cooperations or to implement new joint projects in the Upper Rhine region.
More information about the USIAS Call for Application 2018 can be found here http://www.usias.fr/en/fellowships-2015-call-for-proposals/appel-2018/

Application Deadline: October 2, 2017
2017/08/08