The red ambassador in Second World War London - FRIAS Alumnus Prof. Dr. Gabriel Gorodetsky publishes "The Maisky Diaries"
Gabriel Gorodetsky, former FRIAS Fellow, Emeritus Professor of History at Tel Aviv University and fellow of All Souls College, Oxford, has just published a commented selection of the diaries kept by Ivan Maisky during his time as Russian ambassador to London from 1932 to 1943.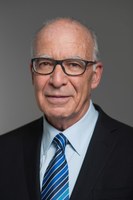 As the only Russian diplomat among those with close connections to Stalin's inner circle at that time, Maisky kept a detailed, sharp witted and insightful diary of his life in London during the Second World War. Stalin's paranoia and regular purges against his supposed enemies during the Great Terror made it risky to keep a diary, since the writing could be used against him at any point. Maisky's diaries are unique in that they offer both insights into Stalin's party politics as well as British and European internal affairs at the time. Maisky, a polyglot and cosmopolitan part of the Russian intelligentsia, had spent several years of his mature youth in Europe, which gave him an excellent understanding of European and Russian politics and culture at the same time. He was well connected with British political circles and was in close contact with Neville Chamberlain, Winston Churchill, Beatrice Webb, artists such as Jacob Epstein, who made his bust, Oskar Kokoschka, who painted his portrait, writers and intellectuals. Sent to London specifically instructed to establish good contacts with the British conservatives (as they, rather than socialist circles, were perceived to be the ones in power), he provides insightful observations on British attitudes towards Nazi Germany, the Ribbentrop-Molotov pact and later the Grand Alliance.
A cosmopolitan, polyglot, independent-minded, and former Menshevik with Jewish roots, Maisky just barely succeeded in walking a tightrope. The mini 'personality cult' which surrounded Maisky by 1942, and  the fact that he had gone perhaps a little too native - was hardly watched with equanimity in the Kremlin. No wonder that in June 1943 Maisky was recalled home despite unprecedented appeals from the British Foreign Minister Eden and the British ambassador in Moscow to keep him at his post. In 1953, at the age of 70, he was finally arrested, accused of treason, having 'lost his feelings for the motherland'. He was saved by the bell when Stalin died two weeks later. Maisky nonetheless spent another two years in prison, having been caught up in a web of Kremlin intrigue surrounding Beria's bid for power. Rehabilitated in 1960 he was elected to the Russian academy of Sciences and died in 1975 at the ripe age of 91.
In 1993, Gabriel Gorodetsky was able to get full access to Maisky's diaries in the archives at the Russian Foreign Ministry. A result of 12 years of dedicated work, including a year as a FRIAS fellow in 2011/2012, Gabriel Gorodetsky has now published Maisky's original writings. Gorodetsky has worked through roughly 1,600 pages, cross-referenced and juxtaposed the diary entries with material from other Russian, British and American public and private archives. Gorodetsky's commentary guides the reader through the double narrative: the events surroundings the origins of and course of World War II diplomacy and the private story of Maisky's battle for survival.
The excerpts of Maisky's diary published now will be followed by a complete three-volume edition of the diaries, approximately one third of which will consist of Gorodetsky's commentary. In May 2015, Gabriel Gorodetsky has returned to FRIAS for 4 weeks within the FRIAS alumni program in order to complete his work on the German version of the diaries, which will be published by Beck in September 2016.
Early reviews of the book by the Financial Times, The Telegraph and Standpoint, The Times, Le Monde Diplomatique.