Sustainable catalysts and international jurisdictions
German-Japanese cooperation links strengths of the University of Freiburg with expertise from Nagoya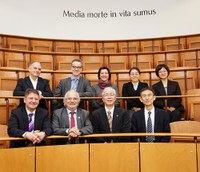 Efficient catalysts for the chemical industry and comparisons between the German and Japanese legal culture: these are the topics behind two new project groups with researchers from Freiburg und Nagoya, selected after the first joint call for applications by the Freiburg Institute for Advanced Studies (FRIAS) and the Nagoya Institute for Advanced Research (IAR). The format brings together exceptionally strong groups from the Universities of Freiburg and Nagoya from the fields of chemistry and law, thereby supporting innovative new research projects.
The Nagoya University in Japan is one of most important strategic partner universities of the University of Freiburg. As an expression of this partnership, FRIAS and the Nagoya IAR have started a two-year program for joint research groups, inviting applications from researchers from both Nagoya and Freiburg. In November 2015, two joint research groups were selected and began their projects in January 2016. The groups receive financial and administrative support for their research stays in Nagoya and Freiburg, as well as for workshops, joint conferences and training opportunities for young researchers. The total funding per group is 60,000 Euro.
"We have had positive experiences cooperating with the Nagoya IAR within our network of University Based Institutes for Advanced Studies (UBIAS). All the more I am delighted that we can further strengthen our partnership with the joint research groups," stated FRIAS-Managing Director Dr. Carsten Dose. FRIAS-Director Prof. Dr. Bernd Kortmann emphasizes the possibility that bringing together excellent researchers from both countries presents: "What is most exciting to me about this format is the fact that our funding and support for the project groups is often a starting point for further collaborations and projects."
The group headed by Prof. Dr. Alexander Bruns (University of Freiburg) and Prof. Dr. Masabumi Suzuki (Nagoya University) is conducting a jurisprudential project titled "Social Governance by Law: Substantive Standards and Procedural Enforcement". The research group will analyse and compare the Japanese and German legal culture with regard to the interplay between substantive standards and their procedural enforcement. In modern constitutional societies, legal frameworks influence and define social life. Depending on the respective political objectives, the behavior of citizens is influenced by means of preventive and reactive legal instruments. Examples for preventive legal instruments are prohibition and injunctions, while in reactive legal systems, damages, restitution and punishment are dominant instruments. Almost all modern legal systems combine both preventive and reactive legal instruments. The joint research group will analyse the legal cultures of both countries in their respective international settings within Europe and Asia within this framework.
The project "Multicomponent Supramolecular Catalysts for Sustainable Chemical Synthesis" under the supervision of Prof. Dr. Bernhard Breit (University of Freiburg) as well as Prof. Dr. Takashi Ooi and Prof. Dr. Kenichiro Itami (Nagoya University) will focus on the development of environmentally benign and energy saving catalysts. Catalysts are substances that accelerate chemical reactions by reducing the activation energy, an energetic barrier between chemical reaction partners. The catalyst itself is left unchanged by the reaction. Almost 80 percent of chemical products are produced with the help of catalytic processes. Thus, a higher environmental compatibility and energy efficiency of catalysts has direct positive effects on the fabrication of chemical and pharmaceutical products. Inspired by natural catalysts, such as enzymes, the group aims to develop a new generation of supramolecular catalysts. Another objective of the group is the establishment of a basis for an international graduate college.
Further information:
https://www.frias.uni-freiburg.de/en/routes-to-frias/joint-project-group-frias-nagoya-iar-2016-17-1
02/2016