Recognition for Freiburg research college
The state of Baden-Württemberg approves further funding for FRIAS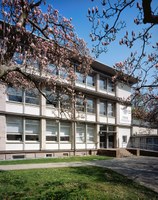 The Baden-Württemberg Ministry of Science, Research and the Arts will provide the Freiburg Institute for Advanced Studies (FRIAS) with nearly two more years of funding (January 2018 to October 2019). In doing so, the ministry is also supporting the university's excellence strategy. If the University of Freiburg is recognised as a University of Excellence in mid-2019, FRIAS will assume a strategically important role in the university's concept.
"We are very grateful for the ongoing support from the state of Baden-Württemberg", explained FRIAS Director Prof. Dr. Dr. h.c. Bernd Kortmann. "With its support, the state is recognising FRIAS' past work and the international reputation that the Institute has developed. The state's support will allow FRIAS and the university to optimally prepare for the Excellence Strategy."
The state of Baden-Württemberg emphasised the importance of such an institute for southwest Germany early on. When the funds from the Excellence Initiative ran out in 2013, the state agreed to provide a portion of FRIAS' long-term financing in order to allow the Institute to continue its work on the basis of a modified concept. Since then FRIAS has obtained 3.3 million euros in external funding from the EU for its own fellowship programme, developed new formats for discussions between science and society, and initiated numerous programmes with international partners, including the University of Strasbourg Institute for Advanced Study (USIAS) and the Nagoya Institute for Advanced Research (IAR). In 2016, the Institute organised a conference on the role of research colleges in Germany, which attracted national attention and was very well received.
01/2017