Out now: "Jenseits von Corona"
FRIAS Directors publish anthology with scientific perspectives on the Corona pandemic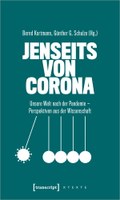 (c) Transcript
On September 25 the new anthology "Jenseits von Corona: Unsere Welt nach der Pandemie - Perspektiven aus der Wissenschaft" (Beyond Corona: Our world after the pandemic - scientific perspectives) was published by Transcript Verlag. As editors, FRIAS Directors Bernd Kortmann and Günther Schulze have gathered numerous former fellows and associated scientists to share their views on the current pandemic and its effects.
32 pointed contributions fathom fundamental questions:
What will remain of the crisis and its profound changes? Is the crisis a turning point in history or merely a dent in long-term trends? How will Corona change our lives in family, work, education, business, politcs, culture, and science?
The succinct articles form a kaleidoscope and create new perspectives on our world after Corona.
Find more information about the book here.
Find the accompanying blog here.