FRIAS NEWS 10 published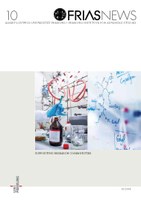 The Freiburg Institute for Advanced Studies has just published the 10th issue of FRIAS NEWS, entitled "SUPPORTING RESEARCH COMMUNITIES".
The opening article of the issue presents the new FRIAS-research foci "Desgined Quantum Transport in Complex Materials" and "Dynamic Alignments and Dealignments in Global Southeast Asia" which will shape the activities at FRIAS in the academic year 2014/2015.
In the series "Portrait" three selected projects are examined in detail: first, the historian Peter Itzen, who analyzes the traffic accident from a historical perspective, second, the project of Maria Asplund, who is currently working on the topic "Conducting polymers for neural interfaces". A third portrait presents the fellow group of Joachim Grage (Freiburg) and Thomas Mohnike (Strasbourg), which is one of four cross-border fellowship groups supported jointly by FRIAS and its partner institute USIAS in Strasbourg.
A new addition in the FRIAS NEWS is the series "Alumni-Portrait". In this issue we talk to Michael Thorwart, a former Junior Fellow of the FRIAS School of Soft Matter Research.
News and event announcements round up the issue.
10/2014
FRIAS NEWS 10 (download pdf)
To order your free copy please contact us: presse@frias.uni-freiburg.de.
Translations:
Previous issues: