The start of a new era of work at FRIAS
The new website signals the start of a new era of work for the Institute. From the 1st October, FRIAS will be basing its work on an extensive new concept.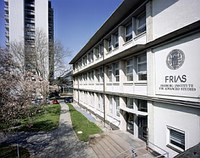 This was intensively discussed both within the academic committees and with future external funding providers, in particular the Federal State of Baden-Württemberg. The new concept will continue to provide important support for top-level academic research and improve the international attraction and visibility of the university.
While the work on implementing the various aspects of the new concept is underway (such as the competition for allocating future research foci), the new fellows for the academic year 2013/14 started their work at FRIAS on 1st October. The fellows come from Freiburg, Germany and abroad – and from many disciplines, as the competition had been opened for fellowships in all of the University's disciplines.
Next steps: the Institute expects the new statute to be approved by the University Senate by the end of the year. It is hoped that the Institute's long-term financing will be promptly be secured (the Federal State of Baden-Württemberg has publicly expressed its general intention to provide financial support, and the Institute has also attracted substantial EU-funds). The call for applications for fellowships for the academic year 2014/15 will be published shortly while the call for applications for research foci has already been published at the University of Freiburg.
10/2013