Horizon 2020: FRIAS Fellows successful in 30 million Euro bid
FRIAS Fellow Harry Holthöfer (City University Dublin, University of Helsinki) and Tobias Huber (University of Freiburg) were successful as lead partners of a consortium of 20 academic institutions and 8 global Biopharma companies.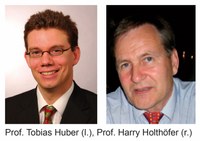 Diabetic kidney disease (DKD) is the leading cause of end stage renal disease (ESRD), and its global incidence and prevalence have reached epidemic proportions in recent years.
So far there are no effective means to prevent or cure DKD. Apart from Renin-Angiotensin-Aldosterone System (RAAS) blockade, which has limited effects, very few alternative therapies have emerged. Likely reasons for the stagnating development of new treatments are the lack of predictive and prognostic biomarkers for a more accurate patient stratification as well as limited access to both kidney tissue from patients at various stages of DKD and appropriate model systems in order to better understand the pathogenesis of the disease.
This year FRIAS Fellows Harry Holthöfer (University of Helsinki) and Tobias Huber (University of Freiburg) were successful as lead partners of a consortium of 20 academic institutions and eight global biopharma companies. The consortium is supported by the Innovative Medicines Initiative (IMI), Europe's largest public-private initiative aiming to speed up the development of better and safer medicines for patients, with a total budget of 30 million euros, out of which approximately two million euros will go to the University Medical Center Freiburg. IMI, a joint undertaking between the European Union and the pharmaceutical industry association EFPIA, supports collaborative research projects and builds networks of industrial and academic experts in order to boost pharmaceutical innovation in Europe.
The consortium, Biomarker Enterprise to Attack DKD (BEAt-DKD), combines outstanding basic and translational researchers in nephropathy, diabetes, kidney model systems, imaging techniques and systems biology. It includes key leaders in diabetes and kidney disease in an unprecedented search for new and better biomarkers for DKD. As a member of the consortium's executive board, Harry Holthöfer not only acts as a co-coordinator, he also aims to attract additional funding and expand the project to Singapore and China.
Jointly, the partners have access to vast clinical cohorts and trials, state-of-the-art analytics and imaging techniques as well as novel model systems and covering networks to make this collaboration a success. By involving regulatory agencies throughout the project, BEAt-DKD aims to make the introduction and acceptance of new tools as efficient as possible. The overall goals of BEAt-DKD are
to provide a holistic systems medicine view of the pathogenesis of DKD,
to identify targetable mechanisms and pathways that underlie the initiation and progression of DKD,
to identify and validate biomarkers of disease progression and treatment responses representing first steps towards precision medicine.
The BEAt-DKD project started on September 1, 2016 and will run until August 31, 2021. As part of the consortium, one important work package - including most of the experimental settings - will be located in Freiburg and bring around 1.7 million euros to the city. FRIAS is happy to report that Harry will remain affiliated with the Institute throughout the project period as a Senior Fellow.
More information about Harry Holthöfer
More information about Tobias Huber
Contact:
Prof. Dr. Tobias Huber
Leiter der Abteilung für Chronische Nierenerkrankungen
Klinik für Innere Medizin IV (Nephrologie und Allgemeinmedizin)
Universitätsklinikum Freiburg
Telefon: 0761 270-35590
tobias.huber@uniklinik-freiburg.de
11/2016