FRIAS-USIAS Alumnus Ralf Reski has cultivated peat moss for measuring air quality
Every day, citizens of Freiburg can inform themselves about the quality of the air in their city on an electronic scoreboard. The information on airborne pollutants such as heavy metal concentrations, nitrogen and sulfur oxides are measured with the help of technical measurement systems. The disadvantage of these systems is that they need electronic power and are not mobile. Already since 1996, a continuous monitoring of air pollution is mandatory within the EU.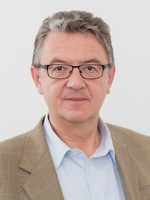 Prof. Dr. Ralf Reski, professor for biology and former FRIAS-USIAS Fellow, together with 30 experts at five universities and five medium-sized companies from Spain, Italy, France, Ireland and Germany, set out to develop a form of "biomonitoring" that is independent of electricity and mobile with the help of peat moss. Within only three years, the consortium MOSSclone, which is funded by the EU's "Eco-Innovation!" programme, has been able to cultivate a type of moss that allows for the measurement of not only nitrogen and sulfur oxides or heavy metal concentrations, but also polycyclic aromatic hydrocarbons, most of which are carcinogenic.
Ralf Reski's group at the University of Freiburg was predominantly responsible for the selection and cultivation of a suitable type of moss. Peat moss is especially suited for the monitoring of environmental air quality, because it takes up nutrients from the air by way of rain rather than soil, and because its complex surface structure enables it to effectively take up and store water and hence also pollutants. The group decided to select Sphagnum palustre, a peat moss found throughout Europe. A particular advantage of this species is the fact that it doesn't matter whether the moss is alive or not when measurements are taken, because a large proportion f pollutants attaches to the finely branched moss surface. In this way, an uncontrolled permanent growth of the moss and thus a distortion of measurement results can be prevented. Furthermore, all the plants are grown in a controlled environment from one moss clone, so they are all identical and free from prior pollution.
With the help of the Spanish company Biovia, the consortium was able to increase the production volume and commercially introduce the so called "MOSSpheres". Together with the technology transfer office of the University of Freiburg, the researchers then filed a patent application with the European Patent Office.
Ralf Reski was a Fellow at FRIAS and the University of Strasbourg Institute for Advanced Studies (USIAS) from October 2013 until September 2015, within the framework of his own project group on plant phenolic metabolism of moss in order to propose strategies to improve biofuel production.
Article by Christian Schüssele on the project
Homepage of the consortium MOSSclone
12/2015