FRIAS Research Focus 2018/19 has been selected
Emerging ethical, legal, philosophical and social aspects of the interaction between humans and autonomous intelligent systems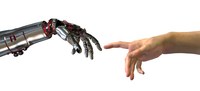 The FRIAS Research Focus 2018/19 has been selected.
The FRIAS scientific advisory board has selected a new research focus for the academic year 2018/19 titled "Emerging ethical, legal, philosophical and social aspects of the interaction between humans and autonomous intelligent systems". The project will investigate aspects of interactions between humans and autonomous systems (for example neurotechnologies and self-driving vehicles) and the implications for modern societies. Four researchers from the University of Freiburg will explore the topic from various disciplines: neurologist and neuroethicist Philipp Kellmeyer (spokesperson), jurist and legal ethicist Silja Vöneky, computer scientist Wolfram Burgard, and philosopher Oliver Müller. The group will invite international guest researchers to join the research focus throughout the academic year.
FRIAS Research Foci define specific thematic fields which a number of fellowships focus on for a limited period of time, thus enhancing the international visibility of these topics at the University of Freiburg. Three to four principal investigators from the University of Freiburg work together in groups of up to eight researchers who usually work at universities and research institutes abroad. Regular colloquia as well as joint academic events and research activities promote intensive discussions within this group of fellows.
The FRIAS scientific advisory board has selected a research topic that is already an object of public interest and has the potential to combine various research fields. Moreover, the research focus will strengthen the collaboration between FRIAS and the cluster of excellence "BrainLinks-BrainTools". The work of the newly selected research focus will be presented to a broader public via lectures and special events.
For further information on the current Research Focus for 2017/18 and on the previous research foci since this funding format was introduced in 2014, see here.