FRIAS Fellow Prof. Dr. Tamara Kinzer-Ursem receives prestigious Fulbright Award
FRIAS Fellow, Prof. Dr. Tamara Kinzer-Ursem has received a prestigious international award that expands her current collaborative projects in phosphatase/kinase signaling.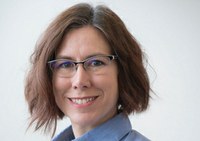 As a Fulbright U.S. Global Scholar, awarded from the U.S. Department of State, Prof. Kinzer-Ursem will use computational and experimental approaches to investigate kinase and phosphatase regulation of the Alzheimer's disease-associated tau protein. Working with BIOSS speaker and CIBSS member Prof. Maja Köhn, Prof. Kinzer-Ursem will use a combined computational-experimental framework to explore how Ca2+-dependent changes in kinase and phosphatase signaling can lead to molecular pathologies in Alzheimer's disease (AD). As a recent FRIAS Senior Fellow and Marie Curie Fellow of the European Union Prof. Kinzer-Ursem initiated a project investigating Phosphatase-Dependent Regulation of CaMKII Kinase Activity in Heart Failure.
Investigating Ca2+-dependent changes of kinase and phosphatase signaling in molecular pathologies
Despite concentrated efforts, therapies to effectively treat heart failure and Alzheimer's disease have proven extremely difficult to develop due to the complexity of disease mechanisms and continuing gaps in our understanding of the underlying molecular mechanisms that cause the disease. A molecular pathology common to both diseases is the disruption of calcium ion (Ca2+) homeostasis in the effected cell types, cardiac myocytes and neurons, respectively.
Recent mathematical modeling by the Kinzer-Ursem group suggests a complex relationship between the Ca2+-sensing protein, calmodulin, the kinase Ca2+/calmodulin-dependent kinase II (CaMKII) and protein phosphatase 1 (PP1). Simultaneously, the Köhn lab has developed specific PP1 activating molecules that can modulate intracellular PP1 activity, and investigates activating PP1 in cardiomyopathy within Prof. Köhn's ERC Consolidator Grant project. "It is only through multi-disciplinary projects such as these, where researchers from vastly different disciplines can come together and utilize their combined expertise, that big problems can be solved. " says Prof. Kinzer-Ursem. "The Freiburg Institute for Advanced Studies (FRIAS) at Freiburg University was founded on this principle, and has allowed us to establish collaborations that will elucidate key molecular mechanisms that contribute to these diseases." 
Taking advantage of their complementary expertise in computational biology and kinase/phosphatase regulation, respectively, Prof. Kinzer-Ursem and Prof. Köhn expect these and future collaborative studies to contribute to development of novel therapeutic strategies that target key molecular mechanisms in heart disease and Alzheimer's disease.
About Prof. Kinzer-Ursem
Prof. Tamara Kinzer-Ursem is the Marta E. Gross Associate Professor and Associate Head of Academic Programs in the Weldon School of Biomedical Engineering at Purdue University. She received her B.S. degree in Bioengineering from the University of Toledo (Ohio, USA); M.S. and Ph.D. degrees in Chemical Engineering from the University of Michigan; and Post-Doctoral training at the California Institute of Technology. Research in the Kinzer-Ursem lab employs a unique experimental-theoretical framework to quantitatively measure, analyze and describe biomolecular and cellular behavior for the improvement of human health. Prof. Kinzer-Ursem's work falls within three areas of expertise: 1) Computational modeling of protein signalling networks; 2) Development of protein tagging technologies that are used to label proteins in vivo to enable quantitative description of protein function and elucidate disease mechanisms; and 3) Development of biomolecular technologies for detection of disease biomarkers in environmental and patient samples.
Find out more about FRIAS Fellow Prof. Dr. Tamara L. Kinzer-Ursem and her research.