FRIAS alumnus Henning Jessen to receive a grant of nearly one million euros
Volkswagen Foundation is funding Jessen's research in the area of metabolites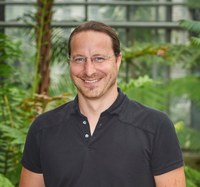 The Volkswagen Foundation is funding the work of chemist and FRIAS alumnus Professor Henning Jessen under its "Momentum" funding initiative, with his research team receiving almost one million euros over five years. Jessen's award is for research into phosphorylated metabolites - metabolites with attached phosphate groups that play an essential role in many vital processes. The aim is to find previously unknown compounds in this class of substances and to describe their functions.
Searching for unknown compounds
We know of many examples of the phosphorylated metabolites substance class. Phosphoric acid esters, for example, are components of genetic material as well as of inositol pyrophosphates, which as messenger chemicals monitor the energy balance of the cell. Phosphoric anhydrides are found, among other things, in adenosine triphosphate (ATP), the general energy "currency" in cells. In bacteria, "magic spot" nucleotides, which also contain phosphoric esters and phosphoric anhydrides, regulate many metabolic processes and are instrumental in circumventing the effectiveness of antibiotics. All these compounds exhibit a significantly negative charge on the molecules and are often also highly unstable.
"The discovery, isolation, description and application of naturally-occurring substances is a highly topical field. However, research in this field focuses almost exclusively on the discovery of new molecules that are not very polar and less unstable," Jessen explains. But, working with his team, he has already obtained numerous indications of previously unknown polar and unstable compounds during sample analysis. Now he wants to follow up on those compounds. Using special extraction methods as well as mild analytics, the working group will attempt to enrich and isolate these metabolites and describe their function.
Henning Jessen has been Professor of Bioorganic Chemistry at the Institute of Organic Chemistry at the University of Freiburg since 2015. He was a Fellow at the Freiburg Institute of Advanced Studies (FRIAS) from October 2019 to July 2020.
He is a member of the Clusters of Excellence CIBSS - Centre for Integrative Biological Signalling Studies and livMatS - Living, Adaptive and Energy-autonomous Materials Systems. His research plan, which is now being funded via Momentum, is closely linked to CIBSS research and is part of the potential field of metabolism research at the University of Freiburg. For his research on bacterial stress messenger chemicals, he received a Consolidator Grant from the European Research Council (ERC) in 2019.
This information was first published by the press team of the University of Freiburg. Please find the official press information here.