FRIAS Alumna Heike Drotbohm receives Heisenberg professorship at the University of Mainz
Heike Drotbohm, former FRIAS Fellow 2015/16, has received a Heisenberg Professorship at the Institute for Ethnology and African Studies at the Johannes Gutenberg-University Mainz. The expert on migration ethnology has worked on migration, diaspora and transnational ways of living for over ten years. She will remain connected to FRIAS within the framework of a new project group on "Tracing Narratives of Flight and Migration Trajectory Analysis as a new Approach in Research and Practice" until the end of 2017.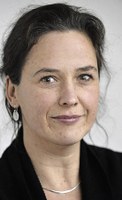 The Heisenberg Professorship for ethnology with a focus on African diaspora and transnationalism will be funded by the German Research Foundation DFG. It is the first professorship in Germany dealing with ethnology with a focus on migration research. The research field of Heike Drotbohm mostly covers the Afro-Atlantic area – a field that includes the coastal areas of West Africa as well as the Caribbean and those areas of America with a strong back reference to Africa.
Field research on migration, diaspora and transnational ways of living have led the researcher to Haiti, Brasil, Cap Verde as well as Portugal, the US and Canada in the last ten years. In her research, she analysed the care arrangements of transnational families with a focus on the perspective of those who remain in their country of origin, such as children and elder people. Heike Drotbohm was able to point out the problematic consequences of an increasingly restrictive regularization of migration, for example by restricting family reunifications to specific categories of kinship or by deportations of migrants.
In recent years, the contact between humanitarian organisations and mobile actors has become the focus of her research, whereby she tries to include the perspectives of those institutions that are responsible for migrants or refugees, as well as those affected by migration policies. For her work she conducts investigations for example in initial reception centers in Brasil, with immigrants not only from Latin American countries, but recently also from Syria, who are granted asylum with a special visa.
Heike Drotbohm has studied ethnology, pedagogy and religious studies in Münster and Marburg, where she graduated with a PhD in ethnology on the topic of Haitian discourses on gender, youth and power in Montreal, Canada ("Geister in der Diaspora. Haitianische Diskurse über Geschlechter, Jugend und Macht in Montreal, Kanada") in 2004.
In 2012 she wrote her Habilitation at the University of Freiburg on the morality of care in transnational fields in Cap Verde ("Verhandelte familiäre Verbindlichkeiten. Die Moral der Sorge in transnationalen Feldern Kap Verdes").
Before coming to Mainz, Heike Drotbohm enjoyed research stays at several institutions such as the HU Berlin on the topic of "Work and the Life Course in Global Perspective" and at the Freiburg Insitute for Advanced Studies. In 2013 she received the Albert-Bürklin-Award of the University of Freiburg for her innovative work in the field of ethnological migration research.
At the Johannes Gutenberg-University Mainz, she will be concerned with the consequences of humanitarian politics and their respective permission categories. To this aim, she will enhance her cooperation with the University of Campinas, Brasil. From August to October 2016, she will be a Visiting Scholar at the New School for Social Research in New York.  
Contact and further information:
Prof. Dr. Heike Drotbohm
Institut für Ethnologie und Afrikastudien
Johannes Gutenberg-Universität Mainz (JGU)
55099 Mainz
Tel. +49 6131 39-20796
Fax +49 6131 39-23730
E-Mail: drotbohm@uni-mainz.de
http://www.ifeas.uni-mainz.de/2410.php
07/2016