Devastated but determined
FRIAS-Fellow Henrike Lähnemann, professor for German Medieval Studies at the University of Oxford, has commented on the British referendum on a withdrawal of Great Britain from the European Union in the German newspaper Frankfurter Allgemeine Zeitung (FAZ).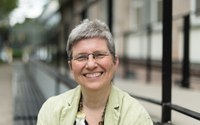 Under the heading "Devastated but determined", she explains the role of British universities in mobilising the population to vote "remain", and reports on first reactions of British and European researchers at British universities to the result of the referendum. Furthermore, she outlines possible consequences of the "brexit" for the British higher education landscape.
You can find the English version of the article here.
Read another commentary on the Brexit by Henrike Lähnemann in the Badische Zeitung.
Together with Charlotte Galpin, Postdoc at the University of Copenhagen, and more than 300 colleagues, Henrike Lähnemann has written an open letter to German Chancellor Angela Merkel. The complete letter in English and German, including a list of the signatories is available here.
Henrike Lähnemann regularly visits FRIAS for two months each year as a Fellow and aims to expand the Freiburg-Oxford German Medieval Studies connection. More background information on the fellowship can be found here. More information on Henrike Lähnemann can be found here.
06/2016