Call for applications: Areas of research focus for the academic year 2015/16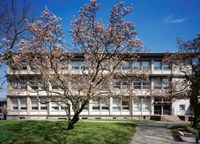 In the academic year 2015/16, FRIAS will again fund areas of research focus in any field of research within the University of Freiburg which is characterized by outstanding academic performance and has ideally already achieved international visibility. The programme is intended to further strengthen these disciplines and make them even more visible internationally. A research focus may include multiple fields and is characterized by a common research subject or a linking problem.
Two areas of research focus will be funded, each of which may include up to 144 fellowship months. The call is open to all disciplines represented at the University of Freiburg. Eligible for application are teams of up to four full-time professors of the University of Freiburg, each of whom can receive a FRIAS Fellowship in case of success.
Application deadline: 30 April 2014
An information session on how to design an area of research focus will take place on Friday 14th February at 14:00 at FRIAS.
Read More (in German) Call for applications >>
Contact: Dr. Carsten Dose, carsten.dose@frias.uni-freiburg.de