Bringing researchers together: new NetIAS online conference series
The "European NetIAS Lecture Series: Borders" is about to start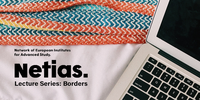 Since the early days of the Corona crisis, FRIAS has been trying to make a virtue of necessity: Forced to find other ways of connecting with our fellows than the traditional face-to-face meetings, we integrated video conferences into our community life. And we are not the only ones: The benefits of connecting across countries and time zones have been widely recognized, Zoom, Skype and other videocall solutions have never been more popular.
The Network of Institutes for Advanced Studies (NetIAS) shares our belief in digital technologies as a huge boost for easy and sustainable communication. Founded in 2004 with the aim of stimulating a dialogue between IAS and fostering international communication, the network consists of 25 institutes all across Europe – among them, of course, FRIAS.  Creating a space for scientific and intellectual exchange and establishing an international and multidisciplinary learning community are key elements of the NetIAS philosophy that reach a new level with the possibility of conferring online!
This philosophy is the foundation of a lecture series the network has now called to life and which is open not only to all partner institutes and its fellows but also to everyone interested in international research. As a part of the network, FRIAS is happy to invite you to its brand-new Lecture Series which is about to start on June 4, 2020, for a first season: In seven lectures, held on Thursday in June and Juli, fellows currently working in NetIAS institutes in Bologna, Paris, Helsinki etc. and coming from different disciplines from History to Microbiology will illuminate different aspects of "Borders".
The lectures start each Thursday at 4 pm and will end at 5 pm and will be held on Zoom.
For more information including the Zoom data, please have a look at the official program.
June 4, 2020

Ilaria Porciani
(Professor of Contemporary History, Department of History and Cultures, University of Bologna)

When Food builds Borders

June 11, 2020

Jonathan Glasser
(Associate Professor of Anthropology, Department of Anthropology, William and Mary University, Fellow at the Paris Institute for Advanced Study)

What is a Boundary Good For?
A Reconsideration through the Muslim-Jewish Musical Question in Algeria

June 18, 2020

Molly Andrews
(Professor of Political Psychology, Department of Social Sciences, and Co-director of the Centre for Narrative Research, University of East London; Jane and Aatos Erkko Professor (2019–20), Fellow at the Helsinki Collegium for Advanced Studies)

The COVID-19 Pandemic and the Failure of Narrative Imagination

June 25, 2020

Lisa M. Wu
(Fellow at the Aarhus Institute of Advanced Studies, Aarhus University)

Opening the Borders of Symptom Management:
Investigating Circadian Rhythms and Light Exposure in Cancer Patients

July 2, 2020

Andreas Teske
(Professor of Marine Microbiology, Department of Marine Sciences, University of North Carolina at Chapel Hill, Fellow at the Hanse-Wissenschaftskolleg Delmenhorst)

International Marine Expeditions Crossing Borders:
Notes from the Gulf of California

July 9, 2020

Laszlo Muntean

(Assistant Professor of Cultural Studies and American Studies at Radbout University, Nijmegen, Fellow at the IAS CEU, Budapest)

Transgressive Materialities: The Afterlife of the World Trade Center

July 16, 2020

Thomas Böttcher
(Research Group Leader, Department of Chemistry, University of Konstanz, Research Fellow at the Zukunftskolleg, Konstanz)

Crossing the Borders of Chemistry and Biology for targeting the Corona Virus Proteases