SAB member Jürgen Osterhammel receives 2018 Balzan Prize for Global History
The Freiburg Institute for Advanced Studies congratulates Jürgen Osterhammel.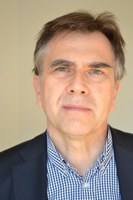 Picture: private
Prof. Dr. Jürgen Osterhammel, member of the FRIAS Scientific Advisory Board from 2013 until 2018, received the 2018 Balzan Prize for Global History for his fundamental contribution to studies in global history and the definition of the discipline. The jury praised his research method, which combines empirical research with a comparative perspective and the study of interconnected histories, and highlighted his elegant, fascinating style of writing. The Prize Ceremony took place on November 23, 2019 in in the Accademia Nazionale dei Lincei in Rome.
The aim of the International Balzan Prize Foundation is to foster culture, the sciences and the most meritorious initiatives in the cause of humanity, peace, and fraternity among peoples throughout the world. The Balzan Prize is awarded annually in the two categories literature, moral sciences, and the arts; and in the physical, mathematical and natural sciences and medicine. The amount of each of the four annual Prizes is 750,000 Swiss Francs; the prize winners must designate half of the prize to research projects that are preferably carried out by young scholars or scientists.
Jürgen Osterhammel studied German, History and Political Science at the University of Marburg. In 1990 he qualified as a professor for modern and recent history at the University of Freiburg. From 1999 until his retirement in  March 2018 he was Professor of Modern and Contemporary History at the University of Konstanz.
More information about the international foundation Balzan Price https://www.balzan.org/en/balzan-price
Further information about Jürgen Osterhammel https://www.balzan.org/de/preistrager/jurgen-osterhammel
18/12/05