A hotspot for German-Ghanaian friendship: Freiburg welcomes a delegation from Accra
Last week, Freiburg hosted a delegation from Accra, Ghana's capital. Accompanied by representatives from education and economy, Mohammed Adjei Sowah, Mayor of Accra, visited fellow Mayor Martin Horn. After Sowah's departure on Tuesday morning, the delegation was invited to the Freiburg Institute for Advanced Studies. The main reason for the visit was to further develop already-existing links between Freiburg and Accra and to strengthen the collaborations in the field of waste and water management, transportation, climate, economy, and science.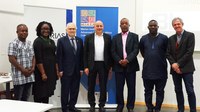 Photo: FRIAS
The foundation of the Merian Institute for Advanced Studies in Africa (MIASA) at the University of Ghana last year marked the beginning of an institutionalized academic exchange between Accra and Freiburg. Both the Arnold-Bergstraesser-Institute (ABI) under guidance of Professor Andreas Mehler and the Freiburg Institute for Advanced Studies (FRIAS), represented by Professor Bernd Kortmann, played an essential role at establishing the partner institute, whose major goal is among others to reduce global asymmetries in producing and distributing research in the humanities. Only last week, the Federal Ministry of Education and Research (BMBF) decided to support the institute, which was established in September 2018, for a period of six years with 12 Million Euros.
In the form of an official reception, which the town hall organized for the visitors from Accra on Tuesday, the partnership between Accra and Freiburg became also visible during the individual level. Dr. Annika Hampel, Freiburg coordinator of MIASA and executive director of the Africa Centre of the University of Freiburg, is impressed by the positive resonance to the initiatives to strengthen the German-African collaboration: "Freiburg is home to a variety of people, who are connected to Africa in one way or another, be it because of their profession or of their social engagement, be it because they are part of the local African community. To see them all united here reassures as in our efforts to further develop those ties."
After the academic collaboration, other fields are to be developed, where fruitful coworking activities can be established. On Monday evening, Mayor Sowah and Mayor Horn signed a "Memorandum of Understanding", that laid the foundation for further cooperation in science, education, and environmentalism. With this document, both cities commit themselves to implement sustainable development measures, for example, the promotion of climate protection or the formation of a lively startup-scene. Also, research projects that benefit from the close connection between ABI, FRIAS, and MIASA, are part of this agreement.
In a working meeting on Tuesday night, the delegation and their hosts at FRIAS discussed how future research projects can be initiated and what the role of the involved institutes is. After a presentation of Freiburg as a city of science by Professor Gunther Neuhaus, vice-rector and prorector for research and innovation, Professor Kortmann and Professor Mehler spoke about the activities and efforts that led to the foundation and confirmation of MIASA. It was emphasized that institutes such as MIASA, FRIAS, and ABI are not meant as a substitute for universities. According to both directors, the collaboration between research institutes and universities rather contributes to open up innovative and often interdisciplinary perspectives and offer new career opportunities for junior researchers. This comes with an essential side effect: In the long run, African research can more and more visibility, and in turn, finds its way into international research!
Further information
12/17/2019 | VSp