FRIAS Express November 2017
Dear FRIAS Community,
We received great news from Berlin and Bonn! FRIAS and the University of Freiburg lead a consortium of strong partners to win a prestigious grant by the Federal Ministry for Education and Research (BMBF). The Maria Sibylla Merian grant will provide funding for a Centre for Advanced Studies in the Humanities and Social Sciences at the University of Ghana, with a secondary site in Dakar, Senegal.
This FRIAS Express informs you about some aspects of this new endeavour, which will shape our institute in the years to come. Apart from that, we like to inform you about other recent news and upcoming events at FRIAS.
TOP NEWS
» Maria Sibylla Merian International Centre for Advanced Studies in the Humanities and Social Sciences in Sub-Saharan Africa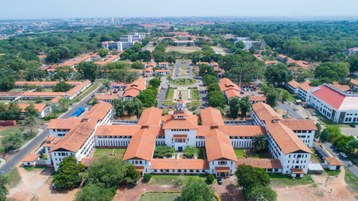 The aim of the new project is to establish an Institute for Advanced Studies at the University of Ghana – very much like FRIAS at Freiburg University. The intention of the German ministry's programme, which will fund this project, is to establish centres of scholarly research for connectingthe humanities and social sciences in Germany with academics and research communities in the Global South. Three such Merian Centres (in India, Mexico and Brazil) have already been selected in earlier rounds and are in the process of being established. The preliminary phase of our project, which has now received about 2 million euros funding, will run from early 2018 to late 2020. Assuming a successful start, the ministry will fund the project for a maximum of another 9 years with a total amount of about 16 million euros. Find out more about the project here.
» Research topic and activities
With the overarching topic "sustainable governance", MICAS Africa will concentrate on a topic of mutual relevance to both countries and world regions. It will offer many opportunities for intensive exchange and collaboration in the three research axes "democratic governance", "conflict management", and "sustainability transformation". The overarching mission of MICAS Africa will be to contribute towards making African thinking increasingly relevant in the global academic world and in the real world of policymaking. The potential for numerous academic links to Freiburg, itself an internationally renowned place for sustainability research, is clearly visible.
In early 2019 the institute will start with a small number of Interdisciplinary Fellow Groups of 8-10 members each on preassigned topics, preparing at the same time an open call for fellowships (some 20 per year to be published later in 2019). Summer schools, workshops, international conferences, and multiple activities for junior researchers will complement the programme activities.
» MICAS Africa - Renowned research institutions pooling their expertise
MICAS Africa is a joint effort by numerous institutions pooling their expertise and resources to establish the new institute. One of the main success factors of the proposal is our main African partner, the University of Ghana. It is without doubt one of the top research-oriented universities in Africa.
The German consorti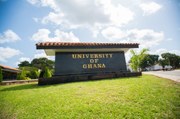 um is led by the University of Freiburg. FRIAS and the Arnold Bergstraesser Institute (ABI), Freiburg, will provide the strategic and organisational backbone of the project. Prof. Andreas Mehler, Director ABI will chair the Executive Board of the new institute. FRIAS will contribute its expertise in setting up and managing an IAS and will be in charge of the administration of the project.
The other consortium partners are the Goethe University Frankfurt, the German Institute of Global and Area Studies Hamburg (GIGA), the Department of Political Science at the University of Konstanz, and the German Historical Institute Paris (a member institute of the Max Weber Foundation, Germany).
The main activities of MICAS Africa will take place at the University of Ghana, with a smaller part being conducted at a second, deliberately francophone site, namely the Centre de Recherches sur les Politiques Sociales (CREPOS) in Dakar (Senegal).
VOICES OF SUPPORT
» Prof. Dr. Johanna Wanka, Federal Minister of Education and Research, Berlin
"Ghana ist ein Land mit hohem wissenschaftlichen Potential, das für das Bundesministerium für Bildung und Forschung (BMBF) eines der Kernländer der Kooperation in Westafrika darstellt. […] Ich freue mich, dass mit Ihrem Zentrum nun der Grundstein für einen Leuchtturm der geistes- und sozialwissenschaftlichen Spitzenforschung in Ghana gelegt wurde. […] Besonders begrüße ich, dass Sie eine Forschungsagenda entwickeln möchten, die für die internationale Wissenschaft wie auch für die praktische Politik relevant ist."
English translation: "Ghana is a country with high academic potential. For the Federal Ministry of Education and Research (BMBF) it is one of the core countries for cooperation in West Africa. [...] I am pleased that [MICAS Africa] lays the foundation for a lighthouse project, supporting cutting-edge research in the humanities and social sciences in Ghana. [...] I particularly welcome the fact that your consortium is planning to develop a research agenda that is relevant to both international science and practical politics."
» Theresia Bauer, Minister of Science, Research and the Arts Baden-Württemberg
"I am thrilled two research-intensive universities from Baden-Württemberg, Freiburg and Konstanz, will actively shape the academic exchange between Germany and Africa. Future issues such as migration, sustainable democracy, or ecological restructuring in societies can only be explored through an exchange between the North and the South, and across disciplines. The Arnold Bergstraesser Institute (ABI) is predestined to actively shape this dialogue. Relying on its extensive expertise, the Freiburg Institute for Advanced Studies (FRIAS) is ideally suited to building an international research college."
PEOPLE – THIS TIME AT MICAS AFRICA
Two people at the University of Ghana have been of outstanding importance for the successful application process and will play a key role in building up the centre in Accra. Both were part of the team that successfully represented the MICAS Africa project before the ministry's academic selection committee in Bonn in September 2017.

Picture from left to right: Carsten Dose, Francis Dodoo, Susann Baller, Dzodzi Tsikata, Andreas Mehler, Bernd Kortmann
Dzodzi Tsikata is the director of the prestigious Institute for African Studies at the University of Ghana and President of the Council for the Development of Social Science Research in Africa (CODESRIA) in Dakar, Senegal. She is also the director of the Centre for Gender Studies and Advocacy (CEGENSA) and Associate Professor at the Institute of Statistical, Social and Economic Research (ISSER) at the University of Ghana. She holds a PhD in social science from Leiden University. Her major areas of research include gender and development policies and practices, the politics of land tenure reforms and large scale commercial land deals, and rural and urban livelihood systems.
Francis Dodoo is the Pro-Vice Chancellor in charge of Research, Innovation and Development at the University of Ghana. He is a Full Professor of the Regional Institute for Population Studies at the University of Ghana and a Liberal Arts Research Professor of Sociology and Demography at Pennsylvania State University (i.e. at University of Freiburg's strategic partner institution in the US). He holds a PhD in social sciences from the University of Pennsylvania. His research includes work in the areas of urban poverty, health, and population interrelationships, socialization and the intergenerational reproduction of gendered norms. Specifically valuable for MICAS Africa is his strong interest in supporting the capacity building of scientific research, especially in the humanities and social sciences, in Sub-Saharan Africa. Outside of academia, Francis Dodoo is a retired top athlete and was President of the Ghana Olympic Committee until recently.
OTHER NEWS
» Jacob und Wilhelm Grimm Prize for FRIAS alumna Marisa Siguan Boehmer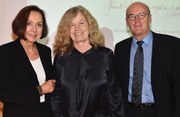 FRIAS alumna Marisa Siguan Boehmer from the University of Barcelona has received the Jacob and Wilhelm Grimm Prize from the German Academic Exchange Service (DAAD). The prize is given to foreign researchers for their outstanding work in the fields of German literature and linguistics, German as a foreign language, and German studies. Marisa Siguan received the prize in the presence of Prof. Rolf G. Renner from the University of Freiburg and the Spanish ambassador María Victoria Morera Villuendas. In her laudatory address, Margret Wintermantel, President of the DAAD, emphasised not only the academic achievements of Siguan, but also her great contributions to the dissemination of German literature in Spanish-speaking countries. The prize is intended to honour people who take the risk of crossing disciplinary and cultural borders, thus contributing to a tolerant and open society, Wintermantel said. More information on Prof. Siguan and the prize in the German press release.
LOOKING AHEAD
» "The post-migration society" – Freiburger Horizonte on November 21st, 2017
The Freiburger Horizonte lecture series welcomes Prof. Dr. Naika Foroutan from the Humboldt University of Berlin for a talk addressing the ongoing debate on migration and integration in Germany. Foroutan is the Deputy Director of the Berliner Institut für Integrations- und Migrationsforschung (BIM, Berlin Institute for Integration and Migration Research). Prof. Foroutan will introduce her concept of a "post-migrant society", i.e. a society where people have accepted that they live in an immigration country. In such a society migration is no longer a state of emergency, and differences and opposites make a positive contribution to society. However, and importantly, ideas of belonging and national identity have to be re-negotiated. The question is: How can such a social self-image be formed?
The lecture will be given in German. When? On Tuesday, November 21st, 2017, at 7 pm. Where? University of Freiburg, KG I auditorium. For more information please click here.
DIRECTOR'S CORNER
FRIAS goes Africa, goes Ghana – in order to build an Institute for Advanced Studies in and for Sub-Saharan Africa! How much better can it get? We are talking about a long-term commitment, closing a long-deplored gap on the global map of IASs in Africa. After all, this will be the first IAS outside of South Africa! What's more, MICAS Africa will be a university-based IAS, aspiring to fulfilling all the missions and principles FRIAS serves – and more, always acknowledging the special needs, conditions, and responsibilities given its location and rootedness in West Africa. It will have important transformative effects at the University of Freiburg, too, quite apart from a regular presence of African scholars at FRIAS. In the course of the application process, our partners at the University of Ghana have quickly turned into friends. Together with them, FRIAS, ABI and the other members of our strong German consortium can be very confident to face up to and, ultimately, master all challenges that are still lying ahead of us. MICAS Africa will issue its first international call for fellowships in 2019 – spread the word!