FRIAS Express April 2019
Dear FRIAS Community,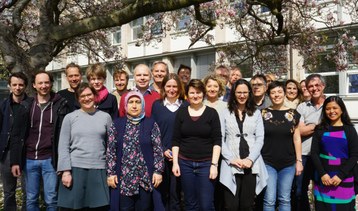 For the University of Freiburg and FRIAS, March was marked by the busy and lively preparations for the on-site visit of the international evaluation committee in the German Excellence Strategy. Soon, the summer semester will start and with it workshops, events and colloquia: Noteworthy, the next Hermann Staudinger Lecture with Nobel Laureate Ben Feringa talking about "The Art of Building Small" takes place on April 25.
Greetings from our FRIAS fellows celebrating the arrival of spring and the blooming Magnolia trees in front of the FRIAS building. We wish all readers a happy (Easter) holiday season!
TOP NEWS
» Call for Applications for FRIAS Research Foci 2020/21
Until April 30, groups of three to four professors or junior professors from the University of Freiburg can apply for the funding programme "FRIAS Research Foci". The program is open to scientists from all disciplines at the University. More information
We kindly encourage the FRIAS community to tell colleagues and researchers at the University about the opportunities the program has to offer. Read about Silja Vöneky's experience as a member of the current Focus "Responsible Artificial Intelligence" in the following article.
» FRIAS welcomes Prof. Dr. Jürgen Osterhammel as Distinguished Fellow
In November 2018, Prof. Dr. Jürgen Osterhammel, member of the FRIAS Scientific Advisory Board from 2013 until 2018, received the 2018 Balzan Prize. With the prize money, Prof. Osterhammel will finance a Balzan Junior Fellowship. For the next three years, Prof. Osterhammel and his research group will be located at FRIAS. As part of their project on "Global History", the group will organise a bi-annual Balzan-FRIAS Lecture in Global History and a series of three international conferences. More information
LOOKING BACK
» External Fellow Przemyslaw Marciniak receives Loeb Classical Foundation Fellowship
Congratulations to Przemyslaw Marciniak, who will receive a grant from the Loeb Classical Library Foundation at Harvard University. The Loeb Classical Library gives access to a large collection of original texts and English translations of Greek and Latin literature. During the scholarship, Prof. Marciniak will work on a commented Polish translation of dialogues written by Lucian of Samosata (ca. 125- 180 AD).
» FRIAS Alumnus Stefan Rother wins Digital Learning Award by University of Freiburg
Stefan Rother, current MIASA fellow and convenor of the first Interdisciplinary Fellow Group, won the Digital Learning Award (2,500€) by University of Freiburg. Stefan Rother received the award for designing a seminar on "Migration, Gender, and Development – Perspectives from the Global South". He aims to enhance the dialogue between students and experts from Accra and Freiburg by employing digital tools such as wikis and webinars. Congratulations to Stefan Rother!
» Fellow Eric Csapo awarded Global Professorship from the University of Warwick
Congratulations also to Eric Csapo, who will join the Department of Classics and Ancient History at University of Warwick from 2019 to 2023. The University of Warwick initiated the Global Professorship programme in 2018 with the aim to enhance international research partnerships and collaboration, especially in the humanities and the social sciences. More information
» Updates from Merian Institute for Advanced Studies Africa (MIASA)
In February, the first Interdisciplinary Fellow Group on migration, mobility and forced displacement started. A conference on their research topic hosted by MIASA will take place from 23-24 May 2019 at the University of Ghana. More information
A delegation from the University of Freiburg has visited the University of Ghana in March. The delegation was led by Prof. Schiewer, Rector of the University of Freiburg, and Martin Horn, Mayor of the City of Freiburg, who met with representatives from the university and the city council to enhance their collaboration and to discuss the potential for a city partnership between Accra and Freiburg. More information (in German)
» Latest publications by FRIAS Fellows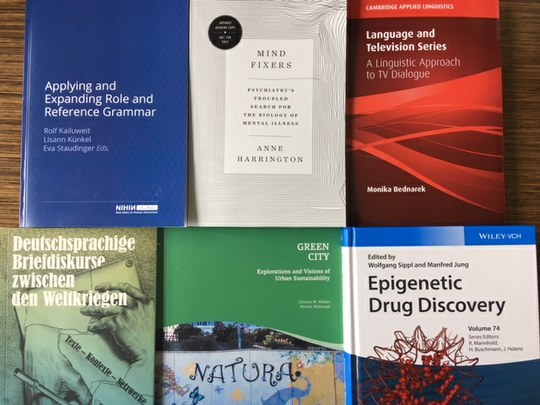 Attentive visitors may have noticed a change in the display cabinet at the entrance. We are delighted to receive so many interesting new books each month from our current and past fellows. The FRIAS building also hosts a library, where we make all books by FRIAS fellows and alumni available. Take a look at your next visit.
LOOKING FORWARD
» Hermann Staudinger Lecture on 25 April 2019

The 27th Hermann Staudinger Lecture with Nobel Laureate Bernard L. Feringa (University of Groningen, The Netherlands) will be held on 25 April 2019. Ben L. Feringa, Sir J. Fraser Stoddart and Jean-Pierre Sauvage received the 2016 Nobel Prize in Chemistry for their contribution to the design and synthesis of molecular machines. FRIAS had the honour of Jean-Pierre Sauvage giving the 24th Staudinger Lecture last year. More information
» Lunch Lecture Series will start on 25 April 2019

The lunch lecture series on "Intelligences. A multidisciplinary exploration of human and artificial intelligence" will start on 25 April 2019 with a lecture on the current state of artificial intelligence research. In the 7 lectures to follow, researchers from various academic disciplines like philosophy, psychology, computer science, and others, will analyse the concept of intelligence. This summer term's lunch lecture is organised by the FRIAS Saltus! Group "Responsible Artificial Intelligence". More information
» Workshop New Perspectives on China's Socialist History, 26 – 27 April 2019
Following a super-interesting workshop on "Transitional Justice Without Transition?" in February, Fellow (and ERC Starting Grantee) Daniel Leese has now organised a workshop addressing new aspects of China's cultural, social and political history from the formation of Maoism in the early 1940s to the immediate post-Mao period in the 1980s. It is part of a workshop series which facilitates the exchange between researchers of the University of Freiburg and the University of Nanjing, a strategic partner university of the University of Freiburg. More information
PEOPLE AT FRIAS
This month, we introduce four new "people in the background", who contribute to the continuous development of the Institute, either as a member of the Steering Committee, the Scientific Advisory Board or the FRIAS Administration.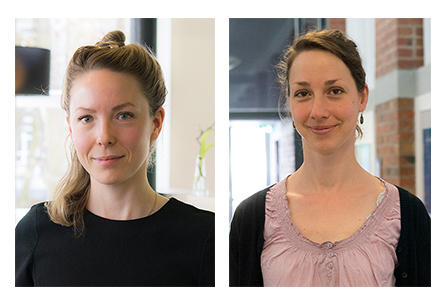 We welcome Andrea Nordlander and Mirja Eschermann as members of the FRIAS events team. They are responsible for organizing all events, conferences, colloquia, and workshops that shape the lively atmosphere here at FRIAS.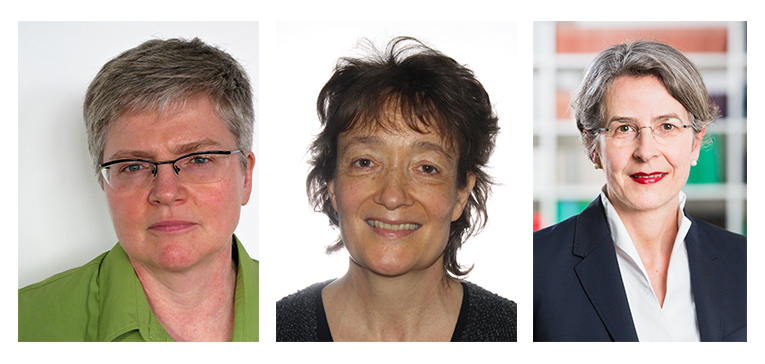 The Scientific Advisory Board welcomes two new members, who both started their academic career at the University of Freiburg: Birgit Emich, Professor of Early Modern History at Goethe University Frankfurt am Main, and Damaris Nübling, Professor of Historical Linguistics of German at Johannes Gutenberg University Mainz.
We are particularly pleased to introduce a new member of the FRIAS Steering Committee with extensive experience and knowledge about the German and international academic system: Prof. Dr. Julika Griem, Professor of English Literature, Director of the Kulturwissenschaftliches Kolleg, an Institute for Advanced Study in the Humanities located in Essen, and Vice President of the German Research Foundation DFG.
DIRECTOR'S CORNER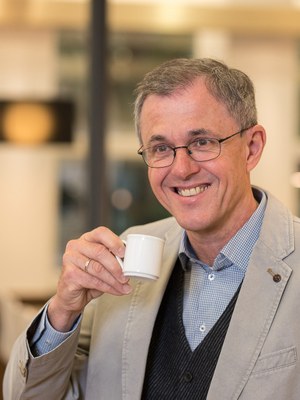 The site visit of the reviewers for the Excellence Initiative in late March went very well, in all respects. We will learn about the outcome on July 19. So now FRIAS, like the entire university, can go back to normal, meaning among other things getting ready for the summer term. But what is normal at FRIAS? Just consider the past week (April 8-12): Monday began with an illuminating HUMSS talk on German Jewish intellectual networks between Germany, Israel, and the United States by French Junior Fellow Sonia Goldblum. On Wednesday archaeologist Margaret Miller presented a thrilling After Hours Conversation on "Orientalism vs Ornamentalism in Ancient Athens". In the second half of the week two international workshops took place in parallel: a 3 day Junior Researcher Conference on "The Economics of Migration – Perspectives on Family, Gender, and Fertility" and a 2 day workshop on ethical and legal aspects and challenges of "Artificial Intelligence, Neurotechnology and Brain Data", including a very lively public panel discussion.
The latter workshop, like this term's lunch lecture series on "Intelligences", was organised by our current Research Focus on "Responsible AI". This team of researchers has created so much enthusiasm over the past six months that it was granted a transfer to a new research group format at FRIAS, called Saltus! Groups. Essentially, this means a considerably extended funding period, so that the "Responsible AI" team will now be able to call FRIAS their home until February 2021. It is wonderful to have a little more continuity as regards the presence of entire research teams: besides the Saltus! Group, we will continue to host for a number of years Eva von Contzen's ERC Starting Grant group on "Lists in Literature and Culture" and, as of autumn, Jürgen Osterhammel's Balzan Prize-funded group of global historians. Within the next 4 months, several more truly fascinating research perspectives and funding formats will be decided upon. Each of these is going to shape research life at FRIAS for at least the next 5-7 years. Curious? Well, you will learn more about these new developments later in the year.
With my very best wishes for a happy Easter from the entire FRIAS team and board of directors,
Bernd (Kortmann)