FRIAS Easter Express (April 2020)

Online archive of all issues of the monthly newsletter "FRIAS Express"
Dear FRIAS Community,
our world is in turmoil: infections with the new Corona virus are on the rise globally and public life has come to a drastic halt. Protective measures to slow down contagion affect our private and professional lives in ways inconceivable only weeks ago, and our perspective and priorities are shaken to their very foundations.
While there is cautious optimism that these measures are showing first effects here in Germany, many of our friends and colleagues in Europe, around the globe, and especially the United States are still facing more dynamic, and fatal, developments. In the midst of this global health crisis, it is hard to assess the lasting effects on our ways of living and working.
Obviously, life at the institute is far from normal as well. But even though events for the upcoming months had to be cancelled until further notice and many of our fellows and staff have switched to working from home, we try and keep the FRIAS community running as well as possible. And indeed, just recently we enjoyed quite a busy start into the new decade – and want to share the highlights of FRIAS life during the last months.
In spite of it all - we wish you and your families healthy and relaxing Easter holidays!
TOP NEWS: FRIAS & CORONA
» The latest development at FRIAS

In the last few weeks, you received several e-mails from FRIAS management and staff explaining our FRIAS policy during the Corona crisis. To help you keep track, here are the key aspects:
On March 20, 2020, the head office of the university prompted all staff members to cancel meetings in person and switch to telephone or video conferences. Under the condition that staff members are protected from the risk of infection as well as possible, the individual institutes are granted extensive freedom of action in deciding on how to continue work.
FRIAS has cancelled all events and meetings until May 31, 2020. However, we work on (digital) solutions to continue the regular HUMSS and NatSci colloquia as planned - further information will follow soon!
FRIAS encourages its Fellows and staff to work from home and assists you in doing so.
Most FRIAS staff members are now working from home. Nevertheless, we do our best to provide our fellows and guests with all they need to work and live here in Freiburg. Since our offices are mostly unoccupied, phone calls won't be answered. Instead we can be reached via e-mail: Just send us a message and we will reply to you immediately!
For a list of all staff members' e-mail-addresses, see our website. 

» Keeping the FRIAS community afloat - what we do and how you can support us!
One of the many perks of FRIAS is certainly our active and versatile community. In times of social distancing, however, we will have to find new ways to keep the exchange between our fellows, staff and friends going – especially in case that the Corona crisis might go on even longer than expected.
This a tough challenge but one that we are well equipped to master. Right now, the FRIAS team is busy with generating and collecting ideas on how to digitize our community and develop new virtual formats. Many of you already tried out other ways of connecting with family, friends and colleagues by now or have experienced situations such as online teaching or virtual meetings in the past.
If you have any ideas how we can tackle this challenge or even want to join our "digitizing FRIAS"-task force, we're more than happy to hear from you!
(REGULAR) TOP NEWS
» How FRIAS helps scholars at risk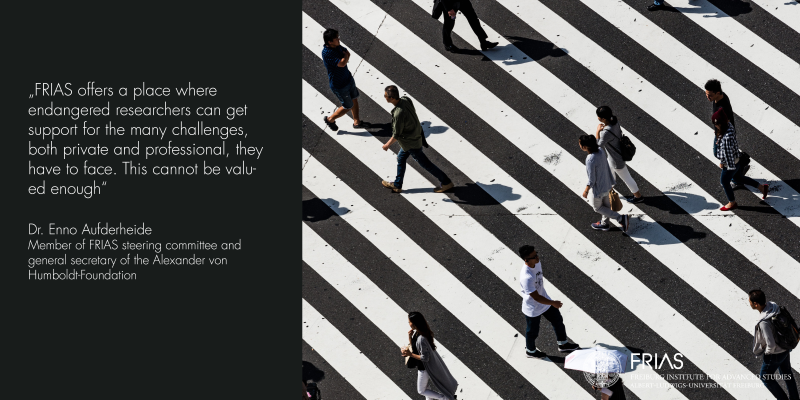 In Europe and especially in Germany, it is sometimes easy to forget that doing research can be a dangerous profession. Unfortunately, in several countries, scientists and scholars face the threat of professional bans or even worse when the results of their research oppose predominant ideologies or even question the regime. Eventually, some see themselves forced to leave their home countries.
In 2015 the Alexander von Humboldt-Foundation initiated the Philipp-Schwartz-Initiative to support these so-called "scholars at risk". The programme works together with German research institutions and funds stays in Germany for a period of up to 2 years.  The five scholars who have been admitted to the University of Freiburg so far have been taken in by FRIAS: Together with the university's International Office, we organize the application process and support these researchers during and beyond their stay.
During the last meeting of the FRIAS Scientific Advisory Board in February we seized the opportunity and talked with Dr. Benno Aufderheide. He is not only a member of the SAB but also general secretary of the Alexander von Humboldt-Foundation: Read the exclusive interview with Dr. Aufderheide on the initiative's goals and FRIAS' contribution to its success.
» Call for Nominations is still open: FRESCO programme
Although nobody can tell when life will go back to normal again, we haven't stopped making plans for the future. For that reason, we want to remind you that our call for nominations for the FRESCO programme is still open!
FRESCO, short for Freiburg Research Collaboration Programme, aims at establishing long-lasting links between top researchers from the University of Freiburg and excellent (inter)national researchers, working in the University's profile and emerging fields. Until April 30, 2020, members of a profile or emerging field at the University of Freiburg can nominate candidates for a 6 to 10-month fellowship in Freiburg.
Visit the FRIAS homepage for further information on the programme and the call. We invite you to share the link with your colleagues at the University of Freiburg who might be interested in nominating a candidate and hosting a FRESCO fellow.
An interview with FRIAS director Bernd Kortmann on the FRESCO programme can be found on the university's homepage.

LOOKING BACK
» Inauguration of the Balzan FRIAS-Project in Global History
On February 13, 2020, we celebrated the inauguration of the Balzan FRIAS-Project in Global History at FRIAS. On this occasion, Professor Jürgen Osterhammel organized a mini-symposium during which he presented his latest volume "The Global Bourgeoisie: The Rise of the Middle Classes in the Age of Empire" together with his co-editors Professor Christof Dejung (Bern) and Professor David Motadel (London). Supported by Professor Stefanie Gänger, Professor of Modern History at the University of Heidelberg and co-leader of the Balzan FRIAS-Project, as well as Islam scholar and Fellow Dr. Simon Wolfgang Fuchs, the editor team discussed the challenges and chances of bringing global history and social history together.
In case you missed the event and its lively discussions, you can read our detailed report on the FRIAS website. 
» Workshop "Humanities in the 2020s"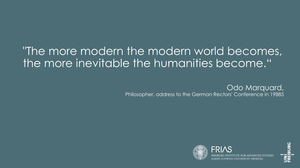 Our FRIAS workshop "Humanities in the 2020s" certainly was another highlight of the early year 2020. Scholars working at the University of Freiburg in different disciplines, on different levels and in a variety of areas, from (PhD) students, post-docs and professors to members of the rector's office, had followed our invitation and joined us to discuss questions such as: Which topics will be relevant for the humanities in the next decade(s)? What methods and toolkits will become more important? How can the humanities tackle the challenge of the so-called third mission and take part in and influence society?
During one and a half days, the workshop attendants discussed the status quo and the prospects of the humanities. In working groups, concepts and ideas were generated on how to evolve teaching, research and PhD education within the humanities.
Right now, we are preparing a detailed report and summary of the workshop that also contains the minutes of the working groups. We will inform you as soon as this report is available!
PEOPLE AT FRIAS
» FRIAS in the media: FRIAS Director defending cornerstone German Leitkultur (?)
Thanks to the open eyes of our Fellow Benjamin Nathans, FRIAS was spotted being represented in the media. For an article on the seemingly German virtue of treasuring work-life-balance and its chances of survival in a digitized world, BBC reporters interviewed former Fellow Kristen Ghodsee about her experiences during her research stay at FRIAS. In her account, a well-known figure emerges as an advocate of the German "Feierabend" – is that you, Mr. Kortmann? Read the article here. 
» Let us know how you work now
Even under normal circumstances it is amazing to see how differently people work: Some are covered in books and paper, others prefer a minimalist-clean desk.
We would love to get a glimpse of your desk at home and let others know about your way to work from home. Just send us a picture of your desk, couch or wherever you chose to work, either to presse@frias.uni-freiburg or post it on twitter while using the hashtag #FRIASworksfromhome. We are excited to see your temporary office!
The first to share her work space with you is FRIAS public relations officer Verena Spohn.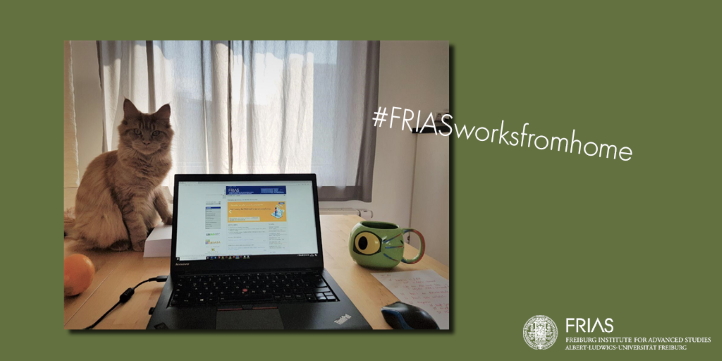 LATEST PUBLICATIONS
  » Simon Wolfgang Fuchs published three new articles
An especially prolific fellow of ours is Islam scholar Dr. Simon Wolfgang Fuchs from the University of Freiburg. In the last three months, he published several (peer-reviewed) articles on one of his main research interests, the religious landscape in Pakistan: If you are interested in the Islam history of mind, have a closer look at Simon's Academia profile where you can also find his latest publications.
DIRECTOR'S CORNER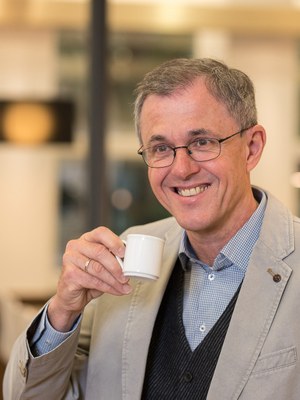 Dear members of the FRIAS community, I will spare you a litany of all the negative, partly disastrous effects the Corona pandemic has had on FRIAS since March and will continue to have at least until June, most likely longer. Back in December I could still proudly announce a year 2020 with an unusually impressive number of fellow visits, lectures, workshops, conferences organized by and at FRIAS. In the meantime, many of these events had to be cancelled, some for good, others have been rescheduled. Some of our fellows decided to leave early, some just wanted to visit their family back home and have been prevented from returning ever since, others experienced a very different fellow stay (partly with their family) in Freiburg and Europe from what they had been entitled to expect, and yet others are currently making up their minds whether they can, or even want to, to join us in late spring and summer as fellows, alumni, or guest researchers.
This is the dark and sobering side of things. All of us can tell stories like these, all of us have been affected in one way or another by this truly global crisis which, this can be safely predicted, is bound to have lasting effects on the world – including a major rethinking of the way in which our global(ized) societies and economies have been working for the past decades. Many things and developments in the years B.C. (before Corona/COVID-19) have been taken for granted for too long by too many political and economic leaders -- as well as by many of us. A major rethink and readjustment of values and priorities in our societies, private and professional lives is what we are already seeing around us in this Corona-struck world – and this is what gives me, personally, at least some hope and room for optimism when thinking a few years ahead.
But returning to the here and now, the major point I'd like to make as regards FRIAS and similarly privileged academic institutions is this: whatever problems Institutes for Advanced Studies around the world no doubt are facing and suffering from these days (and let me mention in this context at least in passing the currently fragile situation of our Accra offspring MIASA, the Merian Institute for Advanced Studies in Africa), they are dwarfed by everything that is happening around us in the world, both in quality and in scale, in the health sector, in society, economy, education, culture, you name it!
At the same time I can reassure all readers that the FRIAS team and directors – all still corona-free, I am happy to announce -- have long left the short phase of frustration, and are working on a range of different projects (mostly from their home offices, the Executive director from office 02015 overlooking the trees in the FRIAS front garden in an otherwise deserted building). Each of these, and certainly all together, are bound to make FRIAS 3.0 an even better, not just better organized, IAS in the concert of its European and global partner institutions.
The driving force behind all this is our new managing director Annette Doll, to whom I'd like to dedicate this Corona/Easter issue of the FRIAS Express. It is absolutely amazing how she has become the highly respected leader of the team within less than two months, and how she has steered the FRIAS ship through heavy seas in the past six weeks -- at a time when the home institution, the University of Freiburg, was still trying to find its course. She is displaying all the leadership skills the FRIAS directors could possibly hope for in last year's recruitment process for the position of managing director. Home office, for example, doesn't happen just like this, as many of you who are managing teams will no doubt know, or have painfully learnt in the course of the past few weeks. It takes a lot of planning, coordination, communication (individually and in small groups) to keep everyone on board and give everyone orientation and the reassurance that s/he is needed -- and where, and why. It takes a lot of empathy and good humour, too, to successfully fill the leadership role, especially in these exceptional and exceptionally demanding times. Thank you, Dr Doll, in the name of the FRIAS directors and, I am sure, in the name of the entire FRIAS team!
In concluding I wish all readers of the Express, their families, friends, colleagues, home towns, countries, and institutions all and only the very best in the challenging weeks and months ahead! And to start with, let me wish all of you most warmly Happy Easter holidays!