FRIAS Express August 2016
Dear FRIAS Community,
It is our great pleasure to introduce FRIAS Express, our new electronic newsletter. On a monthly basis, we aim to οffer you an update of the latest news from the Institute. Reading this update — this is our promise and will be our monthly challenge — should not take longer than it does to pour and drink a double espresso (expresso in French). FRIAS Express thus complements our long-established print brochure FRIAS NEWS (up to 2 issues per year), our online FRIAS media library with podcasts and picture galleries, and our FRIAS Twitter channel. Our goal is to use this public relations family to make the lively, stimulating atmosphere at FRIAS accessible to anyone who is interested. If you do not wish, however, to be on the list for FRIAS Express, simply click on "Unsubscribe" below.
Under the headings "Top News" and "Looking Back", we will take a brief look at recent events and developments, while simultaneously highlighting our latest news. In this issue, for example, we report on the conclusion of our very successful Lunch Lecture series on "Paradigm Shifts in Science". The section "Looking Ahead" will offer an overview of coming workshops, lectures and conferences at FRIAS. Next, under the heading "People at FRIAS", we will each month introduce one member of our Steering Committee or Scientific Advisory Board. The members of the Steering Committee meet once a year and offer FRIAS strategic advice regarding future challenges, while the Scientific Advisory Board meets two to three times a year to select new fellows, project groups, and research foci. The work of both committees, although it takes place very much in the background, is vital for the continued success of FRIAS. Finally, in the section "Director's Corner", Bernd Kortmann will answer one question each month – certainly over an espresso, as this is one of the most common ways to meet the director on an ordinary day at FRIAS. If you yourself have a pressing question or issue touching on matters of current academic interest that you would like to see addressed in FRIAS Express, please drop us a line (presse@frias.uni-freiburg.de). We are also grateful for general feedback on this electronic newsletter.
We wish you an enjoyable read of the first issue of FRIAS Express and wonderful summer holidays (at least in the Northern hemisphere)!
TOP NEWS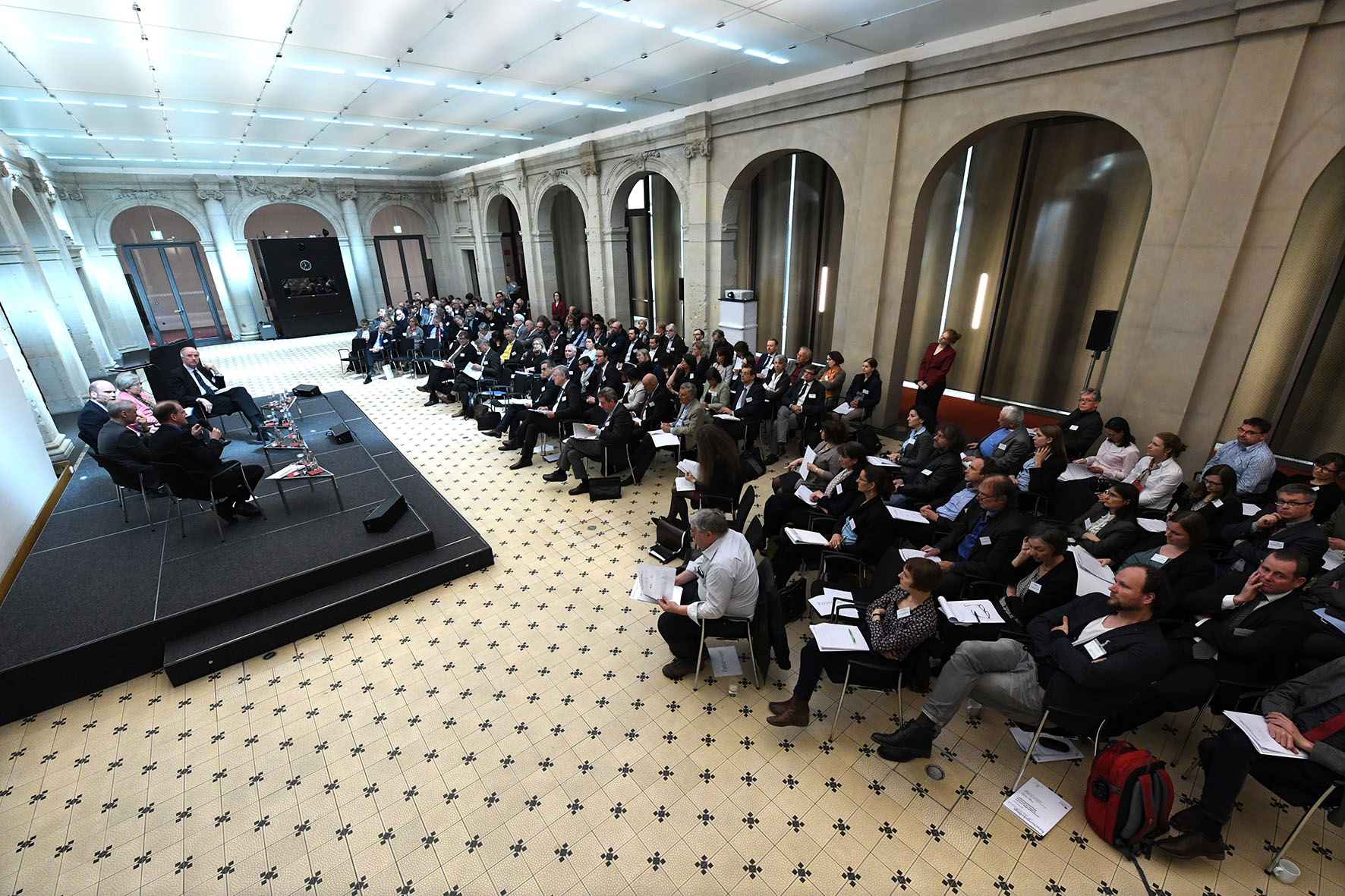 Institutes for Advanced Studies (IAS) in Germany have signed a joint resolution after a nationwide conference in Berlin organised by FRIAS and the Stifterverband on May 2nd, 2016. The resolution highlights five key aspects of the work of IASs and their role within the German higher education system, and is directed to politicians, academia and the broader public. More...


Other recent news
» Calls for Applications for Fellowships and funding programmes still open (deadlines: September 15 and October 31, 2016)
» FRIAS Fellow Henrike Lähnemann on the consequences of the Brexit for British universities
LOOKING BACK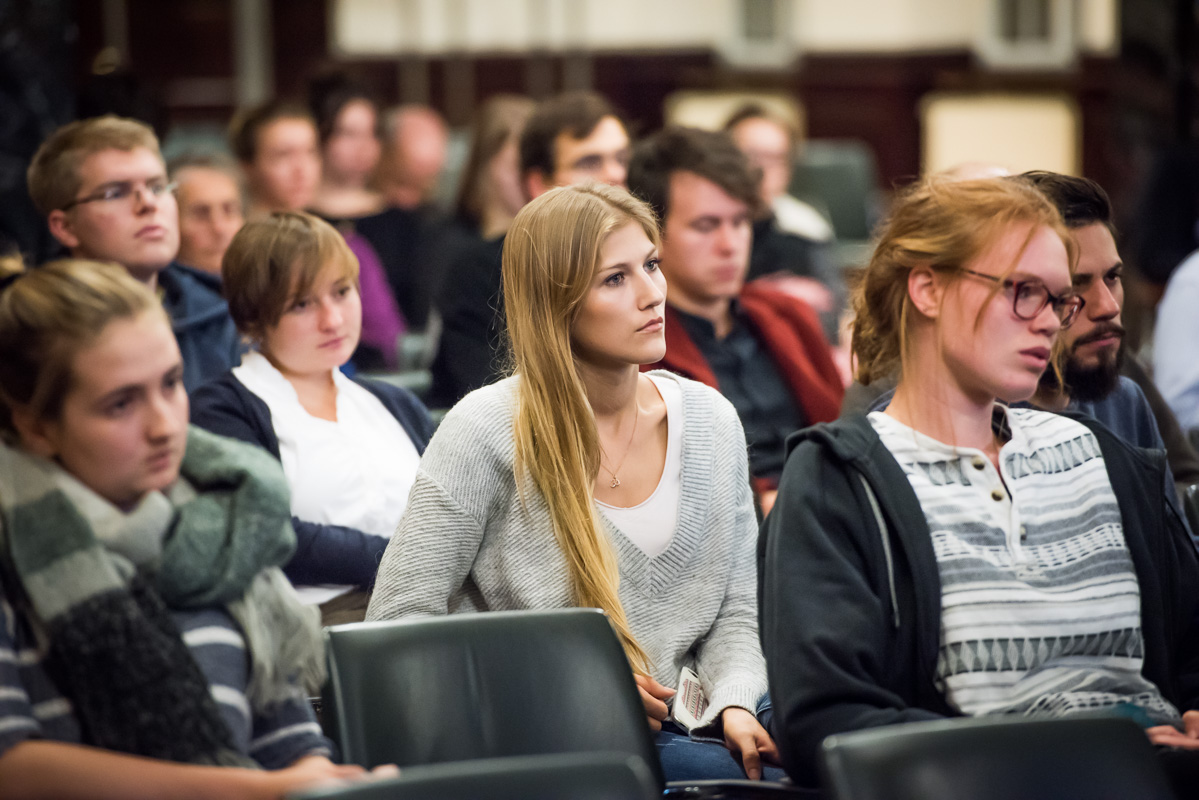 All through the Academic Year 2015/16, the FRIAS Lunch Lecture series dealt with the topic of "Paradigm Shifts in Science". Fellows from disciplines as diverse as Physics, History, Economics, Neurosciences, Mathematics and more explored past or ongoing paradigm shifts in their respective discipline, their consequences, and whether those shifts brought scientific progress with them.
The series concluded with a highly interesting Interdisciplinary Colloquium on July 19, 2016 and a final Lunch Lecture on July 21, 2016 by Veronika Lipphart from Science Studies, housed by the University College Freiburg. More...
LOOKING AHEAD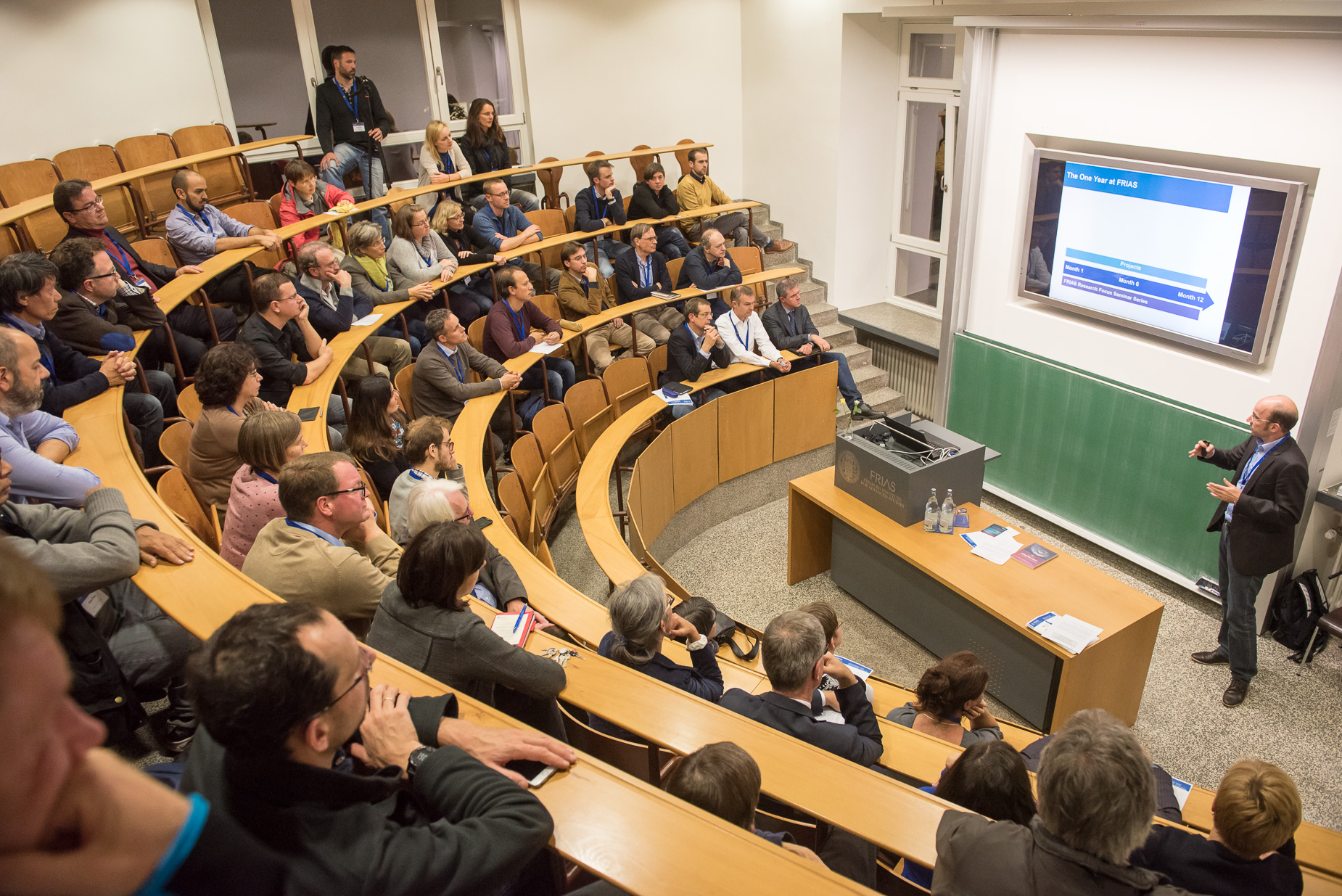 On September 21-23, FRIAS will host the first Junior Researcher Conference of the Academic Year 2016/17 on "Avoiding Bias induced by Design and Analysis in Life History Cohort Studies". The conference is intended to bring together epidemiologists and biostatisticians for enabling translation of existing statistical tools into application, to identify areas where epidemiologic methods are still missing but highly desired, and to foster interdisciplinary collaborations. Attendants presenting their ongoing research will have time to present and extensively discuss their projects.
Other events
» October 12, 2016: FRIAS Welcome Event for the new FRIAS Fellows and Project Groups.
PEOPLE AT FRIAS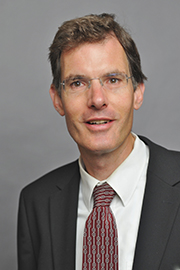 This month: Prof. Dr. Michael Esfeld, Chairman of the FRIAS Scientific Advisory Board

Michael Esfeld is Professor of Philosophy at the University of Lausanne. As an alumnus of the University of Freiburg, he has a special connection to the city. He did his PhD at the University of Münster, followed by a postdoctoral fellowship at the ETH Zürich and visiting scholarships in Cambridge, Canberra and Pittsburgh. After his habilitation at the University of Konstanz he was soon appointed Associate Professor of Epistemology and Philosophy of Science at the University of Cologne and soon after became full professor at the University of Lausanne. He received several prizes, among them the award of the Cogito Foundation for dialogue between the humanities and the natural sciences and the Research Award of the Alexander von Humboldt Foundation. His research interests are the philosophy of science, in particular the philosophy of physics, metaphysics and the philosophy of mind. He is currently writing a book on the ontology of the natural world. In 2015 he was elected Chairman of the FRIAS Scientific Advisory Board (SAB) and has soon become indispensable due to his diligent work and experience in comparing the incomparable.
DIRECTOR'S CORNER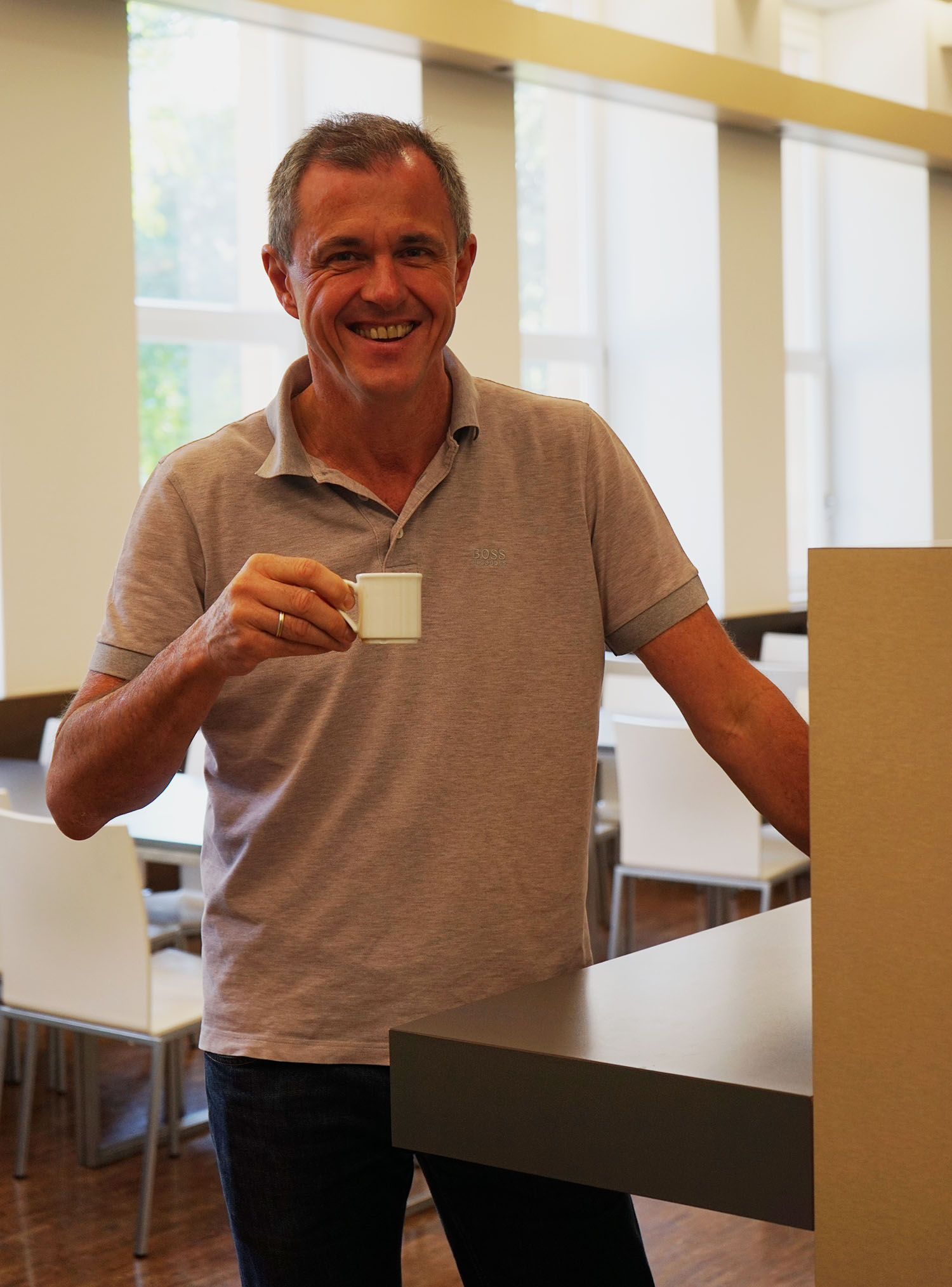 What has been your highlight in the Academic Year 2015/16?
There were simply too many, I'm afraid, to pick out just one. To name just some of the top candidates for highlight events: We had two high-impact landmark conferences on Autophagy-Proteomics and Chemical Epigenetics, our research foci of the past and the coming Academic Year, several highly popular Freiburger Horizonte events, a very successful Paradigm Shifts Lunch Lecture series, AND the high-powered national conference in Berlin on Institutes for Advanced Studies in Germany, initiated and organized by FRIAS.
I think, for me the one overarching crucial point is that the Academic Year 2015/16 saw the outreach activities of FRIAS coming into their own: The Lunch Lecture series reached the student and university public, Freiburger Horizonte the city public and media, the Berlin conference the major national science and research funding institutions as well as the relevant state and federal ministries, and the landmark conferences brought together, and sent powerful signals to, the leading researchers working on the FRIAS Research Foci worldwide. On top of that, the past academic year saw the successful implementation of the new funding format of project groups (e.g. the environmental humanities group "Green City Mandate"). It is fantastic and personally highly rewarding to see innovations and downright experiments living up to, and even going beyond, the expectations and hopes connected with them so quickly.