To boldly go where no one has gone before
The newly selected FRIAS Research Foci 2017/18 will explore two radically different types of spaces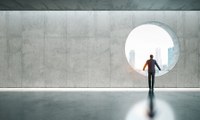 Two entirely different topics will be analysed by the new FRIAS Research Foci in 2017/18: one group of researchers focusses on specific human interactions and movements in (creating) communicative spaces, while the other group deals with highly abstract questions of geometric spaces.
FRIAS Research Foci define specific thematic fields on which a number of fellowships concentrate for a limited period of time, thus enhancing the international visibility of these topics at the University of Freiburg. Three to four principal investigators from the University of Freiburg work together in groups of up to eight researchers who usually work at universities and research institutes abroad. Fellows pursue their own research projects, which are situated within the thematic field of the research focus. Regular colloquia as well as joint academic events and research activities promote intensive discussions within this group of fellows. "The two Research Foci deal with topics that otherwise do not rank high in public awareness. Their approaches are highly innovative and provide ample ground for networking with top researchers in Germany and abroad", explains FRIAS Director Bernd Kortmann. "Precisely for these reasons, we are already looking forward to these two scientifically excellent groups getting started in the Academic Year 2017/18. Moreover, their research will find its way to the broader public via lectures and special events."
The Research Focus "Synchronization in Embodied Interaction" foregrounds a central assumption about communication that so far has not yet been duly recognized in the relevant disciplines: Interpersonal communication, whether face-to-face or mediated, unfolds through several multi-modal resources that are characterized by the intricate interaction between verbal components (words, prosody, etc.) and bodily expressions (gestures, eye gaze).
A major premise of this Research Focus is that synchronization dynamics are indispensable for successful communication, where participants in interaction add the activation of body-energetic dispositions to the semantic, especially referential, aspects of understanding each other. Synchronization can be defined as "the dynamic and reciprocal alignment of modes of expression between interactants". In particular, it is central for creating resonance and what may be called "resonance spaces" between the people involved in a given communicative event.
Stefan Pfänder, Hermann Herlinghaus, Carl Scheidt and Claas Lahmann will explore synchronization in different genres of both everyday and mediated interaction, as well as in distinct scenarios of psychotherapeutic intervention, thereby developing genuine connections between the disciplines of linguistics (Pfänder), cultural anthropology (Herlinghaus), psychotherapy (Scheidt) and body psychotherapy (Lahmann). They are planning to invite colleagues from other disciplines to join this emerging research network in order to shed light on questions such as: How is common ground negotiated and displayed in conversation? How do verbal and bodily resources interact in jointly produced utterances? Can cultural differences be observed in the utilization of different modes of expression in synchronization? How are synchronization patterns constructed through media-based technology and how can they be learned cross-medially?
The Research Focus "Cohomology in Algebraic Geometry and Representation Theory" with Annette Huber-Klawitter (Theory of Numbers), Stefan Kebekus (Algebraic Geometry) and Wolfgang Soergel (Representation Theory) as principal investigators deals with a topic from Pure Mathematics. The linking element of their work in different sub-disciplines of mathematics is cohomology, a concept that originally served to explore geometrical spaces with the help of linear algebraic structures. A particular challenge in mathematics is to explain when two things (for example, two geometrical objects) are "different". One possibility to show these differences is to simply count holes. While a circle has one hole, the geometrical form of the number 8 has two. The same applies to spheres and toruses (which has the form and surface of a bagel). Cohomology enables mathematicians to give a systematic definition of the illustrative concept of "holes" and provides methods for their analysis and calculation. In this way, it provides answers to questions like "What happens when we 'glue' two spaces together?", "When do new holes emerge?", or "How many holes does a complex space have?". This is especially interesting when analysing high-dimensional spaces, which easily exceed human imagination.
The Research Focus aims to use cohomology as a common ground for "Algebraic Geometry", "Representation Theory" and "Number Theory," and to exchange ideas across these mathematic disciplines together with the guest researchers of the group. The Research Focus will invite a number of fellows and guest researchers and will also closely collaborate with the Mathematical Research Institute in Oberwolfach and the DFG Research Training Group 1821.
Each year, FRIAS funds up to two Research Foci. Due to the high number of excellent applications in the most recent call, the Scientific Advisory Board of FRIAS selected two Research Foci for the Academic Year 2017/18. Both groups combine different academic disciplines or sub-disciplines with each other in a fresh and meaningful way.
For further information on the current Research Focus 2016/17 and the previous Research Foci ever since this funding format was introduced in 2014, see here.