Workshop "Robust Finance"
Workshop "Robust Finance"
May 14th - May 18th, 2018
In the aftermath of the recent financial crises, model risk was identified as a main concern of the financial industry. This workshop will bring together researchers working in the areas of financial mathematics, economics, and probability. The goal is to discuss methods that allow to treat model risk in a systematic fashion and that are applicable in practice. A particular focus will be given to robust methods allowing to efficiently capture problems in, e.g., pricing, risk management, and systemic risk in financial markets.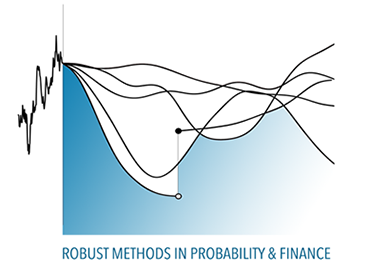 Confirmed Participants:
Eduardo Abi Jaber (Paris Dauphine)
Daniel Bartl (Konstanz, Wien)
Corina Birghila (University of Vienna)
Matteo Burzoni (ETH Zürich)
Samuel Cohen (University of Oxford)
Rama Cont (Imperial College London)
Alexander Cox (University of Bath)
Tolulope Rhoda Fadina (University of Freiburg)
Christoph Gerhart (University of Freiburg)
Xi Kleisinger-Yu (ETH Zürich)
Chong Liu (ETH Zürich)
Max Nendel (Konstanz, Bielefeld)
Ariel Neufeld (ETH Zurich)
Ludger Rüschendorf (University of Freiburg)
Julian Sester (University of Freiburg)
Organisation: Project Group "

Model Risk

"
Registration is free but mandatory.
Schedule
For a detailed version of the program please refer to the PDF download.
| | |
| --- | --- |
| Monday 13:00-18:00: | Discussions and collaboration |
| Tuesday 09:00-18:00: | Discussions and collaboration |
| Wednesday 09:00-18:00: | Workshop and conference dinner |
| Thursday 09:00-18:00: | Workshop |
| Friday 09:00-16:00: | Discussions and collaboration |
Venue
Wednesday, Thursday, and Friday

Freiburg Institute of Advanced Studies (FRIAS)

Albertstraße 19
79104 Freiburg

Monday and Tuesday

Institute of Mathematical Stochastics

Room 232
Ernst-Zermelo-Straße 1 (previously Eckerstraße 1) 79104 Freiburg