Freiburger Horizonte - Die Energiewende und Deutschland: Nationale Herausforderung und Globale Chance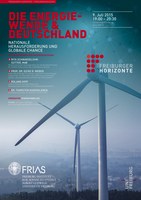 "Die Energiewende & Deutschland – Nationale Herausforderung und globale Chance"
Participants:
Rita Schwarzelühr-Sutter, MdB
Prof. Dr. Eicke R. Weber, Fraunhofer ISE
Roland Hipp, Greenpeace Deutschland
Dr. Thorsten Radensleben, Badenova AG
Moderator: Stefan Pawellek, journalist
When
Jul 09, 2015
from

09:00 PM

to

10:30 PM

Where

Aula (Kollegiengebäude I), University of Freiburg

Contact Name
Jan-Simon Dörflinger
Attendees

öffentlich / open to the public



Add event to calendar

vCal




iCal
Nach der erfolgreichen Auftaktveranstaltung der Freiburger Horizonte am 12. Februar mit Prof. Klaus Töpfer veranstaltet das FRIAS nun die Folgeveranstaltung zum Thema "Die Energiewende in Deutschland".
Am 9. Juli wird von 19 – 20.30 Uhr eine Podiumsdiskussion mit dem Titel "Die Energiewende & Deutschland – Nationale Herausforderung und globale Chance" in der Aula der Universität (KG1) stattfinden.
An der Podiumsdiskussion, die vom Journalisten Stefan Pawellek moderiert wird, nehmen folgende Vertreter der Politik, Wirtschaft und Wissenschaft teil:
Rita Schwarzelühr-Sutter, MdB, Parlamentarische Staatssekretärin im Bundesministerium für Umwelt, Naturschutz, Bau und Reaktorsicherheit
Prof. Dr. Eicke R. Weber, Leiter des Freiburger Fraunhofer-Instituts für Solare Energiesysteme ISE, Co-Organisator des FRIAS Forschungsschwerpunktes "Quantenphysikalische Effekte der Photosynthese"
Roland Hipp, stellvertretender Geschäftsführer und Kampagnengeschäftsführer von Greenpeace Deutschland
Dr. Thorsten Radensleben, Vorstandsvorsitzender der Badenova AG & Co. KG
Further information:
please click on the picture below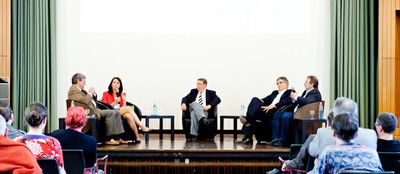 Podcast of the Panel Discussion
Freiburger Horizonte – Germany's Energy Transition: National Challenge and Global Opportunity?
On July 9, 2015, representatives from politics, science, economics and civil society came together in order to discuss the issue of Germany's energy transition in a global context in the framework of the "Freiburger Horizonte". After the successful opening event with the former Federal Minister Prof. Klaus Töpfer in February 2015, this panel discussion allowed for a thorough debate of the challenges of an energy transition that balances societal and ecological demands.
Rita Schwarzelühr-Sutter, Parliamentary Secretary of the State at the Federal Ministry for the Environment, Nature Conservation and Nuclear Safety, offered interesting insights into the political side of Germany's energy transition and international climate negotiations. Dr. Thorsten Radensleben, Chairman of the Badenova AG, brought his entrepreneurial perspective into the discussion, while the Deputy Managing Director and Campaign CEO of Greenpeace Germany, Roland Hipp, highlighted existing problems with the political and economic implementation of the energy transition. Prof. Dr. Eicke Weber, head of the Fraunhofer Institute for Solar Energy Systems ISE in Freiburg and Co-Organizer of the FRIAS Research Focus "Designed Quantum Transport in Complex Materials", emphasized the various connections and interactions between science, politics and society. The moderator of the panel was Stefan Pawellek, who managed to actively engage the audience in the discussion with the help of "question cards".
In the course of the discussion it became evident, that the project of the energy transition, particularly when considered in a global context, raises issues that require a rethinking in industry and society. Rita Schwarzelühr-Sutter emphasized the inextricable link of energy with climate change, and Eicke Weber called the project of identifying and developing sustainable sources of energy a "global question for mankind". Together with the audience, the participants of the panel agreed that this also requires a change of awareness for individual citizens towards a more sustainable consumer behavior. More political guidance, e.g. via a CO2 tax, should be balanced with the need for accessible and affordable renewable energy for citizens.
Roland Hipp called attention to the global consequences of climate change. International cooperation and binding agreements on a global level were identified as key aspects for a future-oriented, sustainable energy production. Here, the role of the industry in climate politics was addressed, without which global climate chance appears infeasible.
With regard to technological requirements, the need for enhanced storage capacities and cross-linking was addressed. Furthermore, the increasingly competitive energy market influences the situation of the national industry, especially in the solar sector. Concerning the digitalization of Germany's energy transition, Thorsten Radensleben pointed out that this development offered manifold opportunities that have not been explored yet.
Next to the national challenges, the global opportunities arising out of Germany's energy transition were also discussed. Rita Schwarzelühr-Sutter argued that, although a CO2 reduction in Germany alone may have little effect globally, the project of the energy transition will serve as a role model for other European, but also Asian countries.
All participants of the panel agreed that an economic and political rethinking on the national as well as the international level is required for a successful global energy transition.
(Katharina Seibel)