Conference - Transitional Justice without Transition?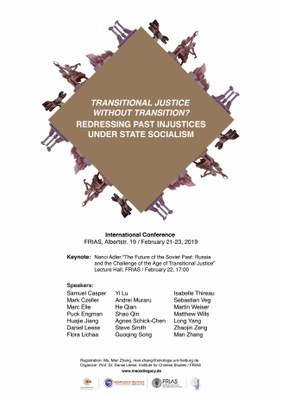 Redressing Past Injustices under State Socialism
When

Feb 21, 2019 02:00 PM

to


Feb 23, 2019 03:00 PM

Where

FRIAS, Albertstr. 19, Seminar Room

Contact Name
Alison Sauer
Contact Phone

+49 (0)761 203-97362

Attendees

open to university members / universitätsoffen



Add event to calendar

vCal




iCal
The question of how states and societies cope with the legacy of past injustices has attracted enormous scholarly and political attention in the past three decades. The concept of "transitional justice," denoting various types of judicial and non-judicial approaches to aid reconciliation and sentence perpetrators, is often used to frame corresponding research. While the Nuremberg and Tokyo trials are commonly cited as pioneering this approach, the "age of transitional justice" (Adler 2018) only began in the 1980s, when the global ascent of human rights discourses underpinned attempts to establish institutions and practices that could help overcome legacies of repression and dictatorship. Most studies invoking the concept of transitional justice therefore only trace transitions from dictatorship to democracy. Yet how are we to understand amnesties, rehabilitations of victims, administrative lustration, trials against perpetrators, and the politics of historical memory during non-democratic transformation processes? This conference will look at attempts at redressing injustices under state socialism. While the majority of the contributions are devoted to the People's Republic of China, there will also be papers addressing the Soviet Union, Romania or even North Korea. By rethinking the politics of historical justice under Communist Party rule, the conference offers new perspectives about the functions that political-legal approaches serve in autocratic attempts to come to terms with a violent past.
Organizer:
Programme:
Please refer to the programme here.