FRIAS Express November 2019
Dear FRIAS Community,
with autumn approaching, the weather has made a turn for the worse. Life at FRIAS, however, is again in full bloom. We have welcomed our new fellows, started the academic year 2019/20, and are already in the midst of FRIAS colloquia, conferences and, above all, interdisciplinary interaction.
In this spirit, we wish you all a successful start and a plethora of stimulating conversations and enriching encounters!


TOP NEWS
» FRIAS Research Focus "Environmental Forecasting" has started
Even before the academic year 2019/2020 has officially started, the new research focus "Environmental Forecasting" has taken up its work with a kick-off workshop. The group around FRIAS fellows Prof. Carsten Dormann, Prof. Kerstin Stahl, and Prof. Stefan Baumgärtner examines a multitude of environmental models from various disciplines such as ecology, economics, and meteorology. By gaining insight into different cultures of modelling environmental systems, the group's aim is to develop a best practice that can be applied to real-life decision making.
The group organises a regular colloquium, which is open to the academic public, to discuss different aspects of the research focus. Inspired by this research focus, we are currently in the process of organizing various public outreach events on the topic of climate change in 2020 (via our format Freiburger Horizonte).


» Jürgen Osterhammel has been awarded with the Great Cross of Merit
Congratulations to Prof. Jürgen Osterhammel! On the 2nd of October, the historian received the Great Cross of Merit with Star by Germany's head of state Frank-Walter Steinmeier. Every year, the Republic of Germany grants this award to individuals who have performed outstanding services to the country. The motto the awarding committee has chosen for this year – "Courage for the Future: Overcoming Borders" – is perfectly suited to describe Jürgen Osterhammel's work. His numerous projects speak of his endeavours to cross-disciplinary boundaries and to open up a global perspective on history, an approach he also takes within the frame of his Balzan Project in Global History. More information
LOOKING BACK
» FRIAS welcomes its new fellows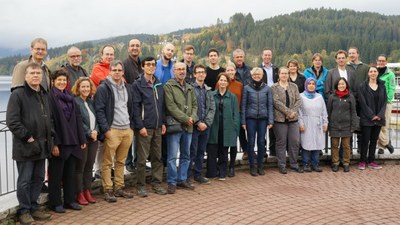 We are happy to have assembled so many interesting scholars and scientists under our roof for the academic year 2019/20 and are excited to accompany a series of fascinating projects and research groups – again, welcome to FRIAS and Freiburg!
In October, we invited our fellows to a welcome retreat in nearby Titisee - we would like to share with you the great group picture that was taken on that occasion!


» 28th Hermann Staudinger Lecture: Nobel Laureate Louis J. Ignarro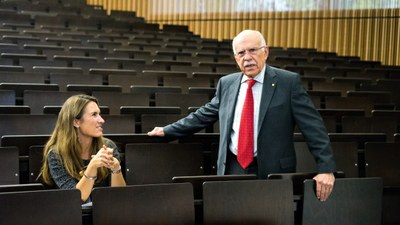 One of this term's early highlights was our latest Hermann Staudinger Lecture held by pharmacologist Louis J. Ignarro. In 1988, he received the Nobel Prize in Physiology or Medicine together with Robert F. Furchgott and Ferid Murad. By discovering the signalling function of nitric oxide within the cardiovascular system, Ignarro paved the way for developing new drugs for treating and preventing a variety of cardiovascular disorders. In his lecture "The Road to Stockholm – A Nobel Mission" on the 5th of November, he talked about his findings in the research of nitric oxide. More information
LATEST PUBLICATIONS
» FRIAS book launches in the winter term
As in previous semesters, we are proud to continue hosting book launches: In the current term, our Fellows Dr. Balász Nemes and Prof. Monika Fludernik, Professor of English literature and Narratology, present their latest monographs to a broader academic public.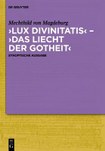 At the end of October, Balász Nemes presented his latest book "Lux divinitatis – Das liecht der Gotheit. Der lateinisch-frühneuhochdeutsche Überlieferungszweig des Fließenden Lichts der Gottheit'. It offers an edition of the Latin translation of the medieval classic Lux divinitatis by the famous mystic Mechthild of Magdeburg and its retranslation into the contemporary vernacular. Together with his fellow editors from Oxford, Munich, and Berlin, he introduced the medievalist community to the edition's genesis and development. More information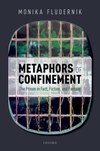 Monika Fludernik's monograph "Metaphors of Confinement – The Prison in Fact, Fiction, and Fantasy" combines different approaches, from law and literature studies to cognitive metaphor theory, in order to examine how the prison metaphor is used in a wide range of literature and to uncover ethical concepts of the practises of imprisonment in different cultures and epochs. The book launch will take place on November 13, 5:30-7:00 pm in the FRIAS lecture hall. More information
LOOKING FORWARD
» Lunch lecture series "Models and Modelling across Sciences"
We are happy to continue with our Lunch Lecture Series, which promotes the institute's exchange with students of the university and the non-academic public. This term's series focuses on "Models and Modelling across Sciences". The lectures given by past and present fellows strive to answer the seemingly easy question of what a scientific model essentially is and to what purposes models are used. Furthermore, specific models and modelling cultures of different disciplines such as narratology, linguistics or ecology will be highlighted and put to discussion. Have a look at the FRIAS calendar for all topics and dates.


» Literature in the Spotlight - LitCult Colloquium

On five occasions, the LitCult Colloquium, organized by FRIAS fellow Eva von Contzen and Kerstin Fest of the Department of English Literature, will come together to discuss contemporary literature from an interdisciplinary perspective and to put to use new theoretical approaches in the humanities. The Colloquium, which is open for the academic public, will start on November 19, 4:15 pm, with a focus on bestselling author Margaret Atwood's recently published novel "The Testaments".
See the FRIAS calendar for all dates and topics.
PEOPLE AT FRIAS
In this issue of the FRIAS express, we would like to introduce three new members of the FRIAS team, who contribute in the background to the Institute's work.
We welcome Kathrin Wolf as the new FRIAS secretary, Jennifer Foster, who has joined the events team, and Verena Spohn, who will be responsible for the Institute's public relations. All three have taken up their positions in October and are excited to become part of the FRIAS community.

DIRECTOR'S CORNER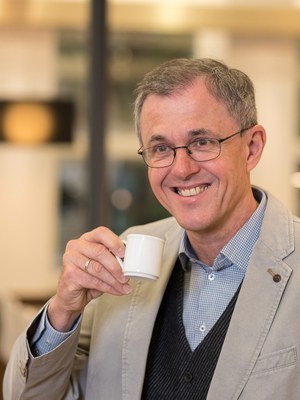 The academic year 2019/20 at FRIAS has seen a good and most promising start. Beyond the impressive array of news that has been reported in this issue of the Express, and most importantly for the running of the Institute, we have been successful in recruiting three excellent new staff members for the positions of secretary central administration, event management and press & public relations. All of them have taken up their positions in the course of the last few weeks. This is thus the appropriate time and place to thank those three colleagues they are replacing most warmly for their invaluable services during the past months and years: Claudia Meyer, Mirja Eschermann and Sophie Baar.
Moreover, I have the great pleasure to announce that, from January 15 onwards, FRIAS will have a managing director again, after a vacancy of (then) 20 months. I don't want to lift the veil right now, but I can promise all friends and alumni of FRIAS that the person we recruited (and this "we" prominently includes the board of directors, the entire FRIAS team, and the university leadership) will be just the right one not only to maintain the Institute's position among the leading university-based IASs of Germany and Europe, but also to move it to yet a higher level in terms of management, leadership and involvement in larger, long-term collaborative research endeavors, both at a national and international level. I better stop here, since I will almost certainly need more space for the Director's Corner in our December issue. If things turn out just right within the next six weeks, there should be various pieces of good news I'll have the privilege of sharing with you!