FRIAS Express February 2019
Dear FRIAS Community,
We apologize for the long radio silence. But the FRIAS Express is back and we are working diligently to provide you with all the latest information. For those of you who did not receive the Christmas Express in December, Director Bernd Kortmann wrote a ristretto version, a brief "looking back" at an eventful FRIAS anniversary year 2018 that you can still read online.
For some of our fellows, the turn of the year almost marks the halftime of their stay in Freiburg. At the same time, January was a busy traveling month and we are even more pleased to welcome so many new faces who will stay with us until summer.
So far, January and February have been lively months, with many diverse lectures, workshops and conferences organized by our Fellows. Attentative observers may have noticed recent activity on our webpage and Twitter, where you will find more news, reports and upcoming events
TOP NEWS
» Klaus Töpfer, former UNEP Executive Director, joins FRIAS as first Policy Fellow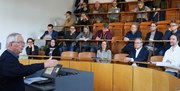 It is our great pleasure to host Klaus Töpfer as the first policy fellow at FRIAS in February. Klaus Töpfer was the Executive Director of the United Nations Environment Program (UNEP) in Nairobi and United Nations Under-Secretary-General (1998-2006). From 1987 to 1994 he was Federal Minister for the Environment, Nature Conservation and Nuclear Safety and from 1994 to 1998 Federal Minister for Spatial Planning, Construction and Urban Development. Experts argue that human actions have altered the earth so profoundly and irreversibly that a new ecological epoch – the Anthropocene – has to be declared. During his stay, Klaus Töpfer will critically assess the scientific and political debate surrounding the term "Anthropocene". In addition to a lively exchange with our current fellows, he will meet with researchers from the Faculty of Environment and Natural Resources.
» Call for Applications for FRIAS Research Foci 2020/21
Until April 15, groups of three to four professors or junior professors from the University of Freiburg can apply for FRIAS Research Foci. The program is open to scientists from all disciplines at the University. More information about the program and the call are available here.
We kindly encourage the FRIAS community to tell colleagues and researchers at the University about the opportunities the program has to offer. Just last week, Prof. Silja Vöneky, member of the current Focus "Responsible AI", provided insight into her work and the way she and her research team organize their year as research focus.
»Updates from MIASA: 1st Interdisciplinary Fellow Group on the topic of migration, mobility and displacement

As reported before, in October the Merian Institute for Advanced Studies in Africa (MIASA) kicked off with the inaugural conference "Africa's Institutions for Sustainable Governance" (Follow up). In November, the international workshop on "Issues of Restitution and Repatriation of Looted and Illegally Acquired African Objects" successfully concluded with a joint statement by all workshop participants. And this week, the first Interdisciplinary Fellow Group (IFG) arrived at UG to start their work on the topic of migration, mobility and displacement. For more updates on the IFG 1, please visit this website. Attention: MIASA also has a new website https://www.ug.edu.gh/mias-africa/
LOOKING BACK
» Hermann Staudinger Lecture with Thomas C. Südhof
On December 19th, 2018, Nobel Laureate Prof. Thomas C. Südhof from Stanford University gave the 26th Hermann Staudinger Lecture. Thomas Südhof was awarded the Nobel Prize in Physiology or Medicine in 2013 together with James Rothman and Randy Schekman for their discoveries of machinery regulating vesicle traffic, a major transport system in our cells. We would like to thank Prof. Südhof for his lecture and for offering a master class for doctoral students and postdocs at the University. It was a great opportunity to exchange ideas and receive career advice from a Nobel Laureate. Moreover, the next Hermann Staudinger Lecture is already scheduled: On April 25, 2019, FRIAS welcomes Prof. Ben L. Feringa.
»Freiburg Horizonte with Andreas Meyer-Lindenberg
We were already able to host a first Horizonte event in 2019, with Prof. Andreas Meyer-Lindenberg, director of the Central Institute of Mental Health [Zentralinstitut für Seelische Gesundheit] Mannheim. In his presentation on the role of artificial intelligence in medicine and neurosciences, he addressed the question: Can artificial intelligence help to better diagnose and treat mental illnesses? A recording of Meyer-Lindenberg's presentation will soon be available in our media library.
Also noteworthy: In November 2018 two consecutive Freiburg Horizonte events took place. First, the Minister of Baden-Wuerttemberg, Winfried Kretschmann spoke about "Which science does society need?". And just the following day, journalist Josef Joffe, editor of the major liberal German weekly "Die ZEIT", asked whether the uprising of Populists put an end to the liberal-democratic order of society [Aufstand der Populisten: Das Ende der liberal-demokratischen Ordnung?]. We recorded both events and the video podcasts are available in our media library.
LOOKING FORWARD
»Conference - Transitional Justice without Transition? Redressing Past Injustices und State Socialism
Between February 21 – 23, FRIAS fellow Daniel Leese and his research team from the ERC Starting Grant "The Maoist Legacy" will host the conference "Transitional Justice without Transition? Redressing Past Injustices and State Socialism". We would like to invite you to join us for the public keynote lecture given by Nanci Adler, Professor at the University of Amsterdam, speaking about "The Future of the Soviet Past: Russia and the Challenge of the Age of Transitional Justice"
» 20th Autumn Academy - Synchronization in Embodied Interaction
At the end of the month, the research focus Synchronization in Embodied Interaction (2017/18) is hosting the 20th "Herbstakademie". The series is dedicated to the topic of complex systems in psychology, cognitive science, and related disciplines. The central topic this year is the role of the body in social interaction and mental processes. More information, including a program and registration link, are available here.
PEOPLE AT FRIAS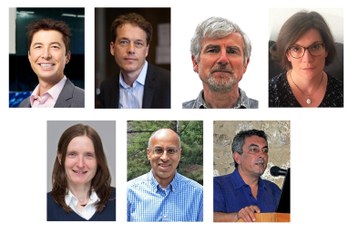 We warmly welcome 7 new fellows at FRIAS. Harald Bauder from Ryerson University Toronto is looking at innovative ways in which cities in Germany and Switzerland welcome newcomers. Sven Beckert from Harvard University is taking up the challenge of a global history that analyzes the spread of capitalism over the past 500 years. Eric Csapo from the University of Sydney goes back in time even further, looking at the Dramatic Festivals of Athens (ca. 500-300 BC). Sonia Goldblum crossed the Rhine River to join us from the University of Upper Alsace in Mulhouse to investigate German-Jewish relationships in the Weimar Republic. Linguist Laura Rupp joined us from Vrije Universiteit, Amsterdam. Her interest is the investigation of non-standard grammar in dialects of English and Dutch. We once again welcome Akbar Salam from Wake Forest University (USA), working in the field of Theoretical Chemical Physics. Apostolos Sarris from the Foundation of Research & Technology in Greece, a geophysicist by training, works closely with Archeologists. Using methods of spatial analysis and modelling, he investigates settlement patterns in Thessaly, Greece in the Neolithic period.